.

Application:
The mechanical seal range is designed for universal application and the interchangeable parts concept is ideal forthrust ring is retained by the drive lugs preve stock rationalization.The seal faces are loosely inserted and can be easily exchanged, the nting the spring falling out.Other special technical features include stationary seal stop and limitatlion of spring stroke to prevent excessive carbon wear.
These seals are highly reliable in performance. And popularly used in food,drink, dairy product and pharmacy industries.


GW COUNTERFACE GCS seal is used in washing machine. Seals for mixers and tanks. food processing.
Our Quality assurance system based on continuius improvement aiming at total customer satisfaction is a key to our cuccess ad a seal company.
Rubber bellow and statioanry seals. On the medium side , the seal is clean against detergents, fibers.
Maximal pressure 1.5 bar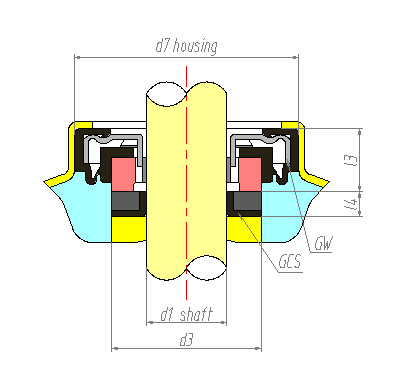 | | | | | | |
| --- | --- | --- | --- | --- | --- |
| /Size | d1 | d7 | L3 | L4 | d3 |
| GW40 | 40.00 | 68.00 | 12.00 | 5.00 | 58.00 |
| GW50 | 50.00 | 80.00 | 13.00 | 5.00 | 70.00 |
| GW58 | 58.00 | 88.00 | 18.00 | 7.00 | 75.00 |
| GW85 | 85.00 | 130.00 | 20.00 | 10.00 | 112.00 |
| GW90 | 90.00 | 130.00 | 20.00 | 8.50 | 112.00 |