Mechanical metal bellow seals
Mechanical seals in the Metal bellow series have a universal field of application. They are designed for extreme ranges of tempera- ture and for high-viscosity media. There is no dynamic O-ring and therefore a bel-lows seal will never hang-up.

Used in all types of rotating equipment,pumps,To suit industries.
Such as sgeneral chemical,oil refining,petrochemical,pharmaceutical,
pulp and paper,and waste water treatment.
oil,water,and other middle corrosion medium
Design features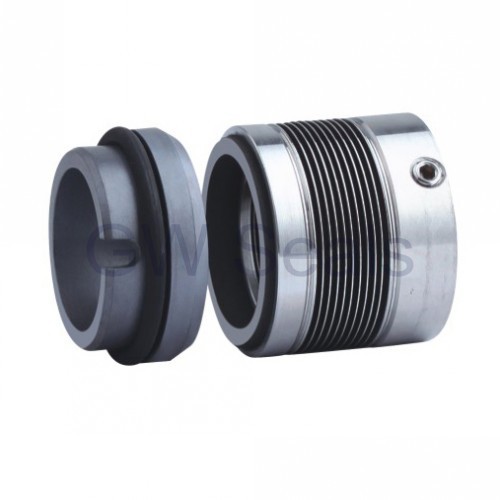 1. welded metal bellows elastic componewith good performance.
2.single structure ,better integration and compact construction,reliable seal and long
operation cycle.
3.fine fluctuate of compensation
d= 20 … 100 mm
stationary seat lock necessary.
Externally pressurized:
p1 = 25 bar
Temperature:
temperature = -40 °C … +220 °C
Sliding velocity: vg = 20 m/s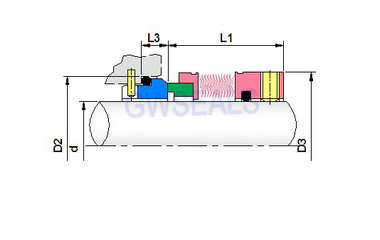 ..


| | | | | |
| --- | --- | --- | --- | --- |
| /Size | D3 | D2 | L1 | L3 |
| 16 | 30.0 | 27.0 | 32.5 | 10.0 |
| 18 | 32.0 | 33.0 | 30.5 | 7.0 |
| 20 | 33.5 | 35.0 | 30.5 | 7.0 |
| 22 | 36.5 | 37.0 | 30.5 | 7.0 |
| 24 | 39.0 | 39.0 | 28.5 | 11.5 |
| 25 | 39.6 | 40.0 | 28.5 | 11.5 |
| 28 | 42.8 | 43.0 | 31.0 | 11.5 |
| 30 | 45.0 | 45.0 | 31.0 | 11.5 |
| 32 | 46.0 | 48.0 | 31.0 | 11.5 |
| 33 | 48.0 | 48.0 | 31.0 | 11.5 |
| 35 | 49.2 | 50.0 | 31.0 | 11.5 |
| 38 | 52.3 | 56.0 | 31.0 | 14.0 |
| 40 | 55.5 | 58.0 | 31.0 | 14.0 |
| 43 | 57.5 | 61.0 | 31.0 | 14.0 |
| 45 | 58.7 | 63.0 | 31.0 | 14.0 |
| 48 | 61.9 | 66.0 | 31.0 | 14.0 |
| 50 | 65.0 | 70.0 | 32.5 | 15.0 |
| 53 | 68.2 | 73.0 | 32.5 | 15.0 |
| 55 | 70.0 | 75.0 | 32.5 | 15.0 |
| 58 | 71.7 | 78.0 | 37.5 | 15.0 |
| 60 | 74.6 | 80.0 | 37.5 | 15.0 |
| 63 | 79.0 | 83.0 | 37.5 | 15.0 |
| 65 | 84.1 | 85.0 | 37.5 | 15.0 |
| 68 | 87.3 | 90.0 | 34.5 | 18.0 |
| 70 | 87.3 | 92.0 | 42.0 | 18.0 |
| 75 | 95.0 | 97.0 | 42.0 | 18.0 |
| 80 | 98.4 | 105.0 | 41.8 | 18.2 |
| 85 | 104.7 | 110.0 | 41.8 | 18.2 |
| 90 | 111.0 | 115.0 | 46.8 | 18.2 |
| 95 | 114.0 | 120.0 | 47.8 | 17.2 |
| 100 | 117.4 | 125.0 | 47.8 | 17.2 |