Type M7N Wave Spring Seal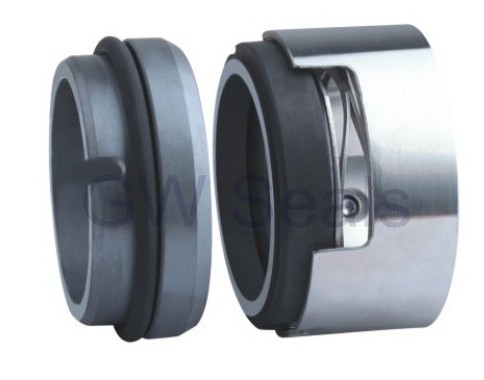 Equivalent to Burgmann type M7N
Operational Limits:
Combined Materials: Shaft Size =14~100mm
Rotary Ring: SIC/Ceramic/TC
Pressure: 1.60Mpa
Stationary Ring: Sic/Carbon/TC
Temperature: -30 ~ 200 ℃
Secondary Seals:FPM/EPDM
Speeds: 20 m/s
Metal Parts: SS304/SS316
Stationary seats: G6,G9,G4

Features
1.Different sizes of Oil Seal,Rubber Oil Seal,Rubber Seal, also can make on your size.
2.Optional color for you of the Oil Seal,Rubber Oil Seal,Rubber Seal,Rubber Gasket, O-Ring :Black, red, yellow, brown, white, green, violet etc, can make it on your order;
3. Your OEM order of Oil Seal,Rubber Oil Seal,Rubber Seal or O-Ring and Rubber Gasket is welcomed as well.

Application condition
With more than years of successful application in high-temp chemical flows and oil refining industry, high-term welded metal bellow series are mostly used in high-temp hydrocarbons, thermal transmission oil and high-temp chemical mediums, and applicable for rotary shaft based equipments such as centrifugal pumps and gear pumps.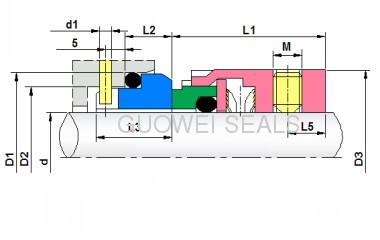 | | | | | | | | | | |
| --- | --- | --- | --- | --- | --- | --- | --- | --- | --- |
| /Size | D3 | D2 | D1 | d1 | L1 | L2 | L3 | L5 | M |
| 14 | 25 | 21 | 25 | 3 | 25.0 | 10.0 | 17.5 | 6 | M5 |
| 16 | 27 | 23 | 27 | 3 | 25.0 | 10.0 | 17.5 | 6 | M5 |
| 18 | 33 | 27 | 33 | 3 | 26.0 | 11.5 | 19.5 | 7 | M5 |
| 20 | 35 | 29 | 35 | 3 | 26.0 | 11.5 | 19.5 | 7 | M5 |
| 22 | 37 | 31 | 37 | 3 | 26.0 | 11.5 | 19.5 | 7 | M5 |
| 24 | 39 | 33 | 39 | 3 | 28.5 | 11.5 | 19.5 | 8 | M5 |
| 25 | 40 | 34 | 40 | 3 | 28.5 | 11.5 | 19.5 | 8 | M5 |
| 28 | 43 | 37 | 43 | 3 | 31.0 | 11.5 | 19.5 | 8 | M6 |
| 30 | 45 | 39 | 45 | 3 | 31.0 | 11.5 | 19.5 | 8 | M6 |
| 32 | 47 | 42 | 48 | 3 | 31.0 | 11.5 | 19.5 | 8 | M6 |
| 33 | 48 | 42 | 48 | 3 | 31.0 | 11.5 | 19.5 | 8 | M6 |
| 35 | 50 | 44 | 50 | 3 | 31.0 | 11.5 | 19.5 | 8 | M6 |
| 38 | 55 | 49 | 56 | 4 | 31.0 | 14.0 | 22.0 | 8 | M6 |
| 40 | 57 | 51 | 58 | 4 | 31.0 | 14.0 | 22.0 | 8 | M6 |
| 43 | 60 | 54 | 61 | 4 | 31.0 | 14.0 | 22.0 | 8 | M6 |
| 45 | 62 | 56 | 63 | 4 | 31.0 | 14.0 | 22.0 | 8 | M6 |
| 48 | 65 | 59 | 66 | 4 | 31.0 | 14.0 | 22.0 | 8 | M6 |
| 50 | 67 | 62 | 70 | 4 | 32.5 | 15.0 | 23.0 | 8 | M6 |
| 53 | 70 | 65 | 73 | 4 | 32.5 | 15.0 | 23.0 | 8 | M6 |
| 55 | 72 | 67 | 75 | 4 | 32.5 | 15.0 | 23.0 | 8 | M6 |
| 58 | 79 | 70 | 78 | 4 | 37.5 | 15.0 | 23.0 | 9 | M8 |
| 60 | 81 | 72 | 80 | 4 | 37.5 | 15.0 | 23.0 | 9 | M8 |
| 63 | 84 | 75 | 83 | 4 | 37.5 | 15.0 | 23.0 | 9 | M8 |
| 65 | 86 | 77 | 85 | 4 | 37.5 | 15.0 | 23.0 | 9 | M8 |
| 68 | 89 | 81 | 90 | 4 | 34.5 | 18.0 | 26.0 | 9 | M8 |
| 70 | 91 | 83 | 92 | 4 | 42.0 | 18.0 | 26.0 | 9 | M8 |
| 75 | 99 | 88 | 97 | 4 | 42.0 | 18.0 | 26.0 | 10 | M8 |
| 80 | 104 | 95 | 105 | 4 | 41.8 | 18.2 | 26.2 | 10 | M8 |
| 85 | 109 | 100 | 110 | 4 | 41.8 | 18.2 | 26.2 | 10 | M8 |
| 90 | 114 | 105 | 115 | 4 | 46.8 | 18.2 | 26.2 | 10 | M8 |
| 95 | 119 | 110 | 120 | 4 | 47.8 | 17.2 | 25.2 | 10 | M8 |
| 100 | 124 | 115 | 125 | 4 | 47.8 | 17.2 | 25.2 | 10 | M8 |