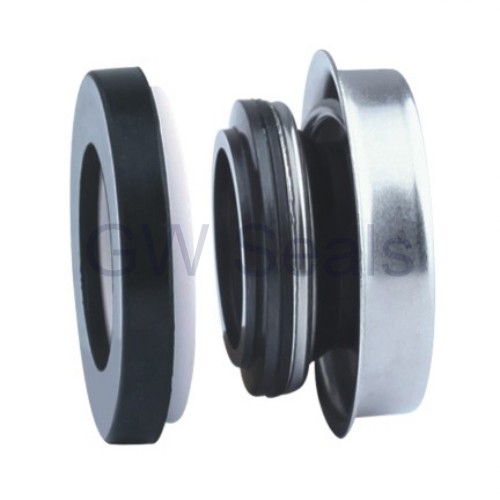 Specifications :
water pump shaft seal.
High quality in and Economical seal
Application:
The mechanical seal range is designed for universal application and the interchangeable parts concept is ideal forthrust ring is retained by the drive lugs preve stock rationalization.The seal faces are loosely inserted and can be easily exchanged, the nting the spring falling out.Other special technical features include stationary seal stop and limitatlion of spring stroke to prevent excessive carbon wear.
These seals are highly reliable in performance. And popularly used in food,drink, dairy product and pharmacy industries.

| | | | | | | | |
| --- | --- | --- | --- | --- | --- | --- | --- |
| Metric Size | Model | D3 | D31 | D1 | L | L2 | L3 |
| 10 | 10 | 29.00 | 24.00 | 23.00 | 17.00 | 4.00 | 7.00 |
| 12 | 12S | 32.00 | 28.55 | 25.00 | 18.20 | 5.00 | 8.00 |
| 12 | 12M | 35.00 | 30.00 | 24/23 | 18.00 | 5.00 | 8.00 |
| 12 | 12L | 38.00 | 33.40 | 25.00 | 18.00 | 5.00 | 6.70 |
| 16 | 16 | 41.50 | 36.45 | 31.00 | 19.80 | 5.00 | 8.00 |
| 16 | 16L | 43.50 | 38.10 | 31.00 | 19.80 | 5.00 | 8.00 |
| 16 | 16LD | 43.50 | 38.10 | 31.00 | 19.80 | 5.00 | 8.00 |
| 20 | 20S | 43.80 | 38.00 | 35.00 | 20.50 | 5.00 | 9.50 |
| 20 | 20 | 43.80 | 40.00 | 35.00 | 20.50 | 5.00 | 9.50 |
| 25 | 25S | 51.00 | 46.00 | 44.00 | 25.00 | 7.00 | 10.00 |
| 25 | 25M | 51.00 | 47.00 | 44.00 | 25.00 | 7.00 | 12.00 |
| 25 | 25L | 57.00 | 52.00 | 48.00 | 25.00 | 7.00 | 12.00 |
| 30 | 30 | 57.00 | 52.00 | 48.00 | 27.00 | 8.00 | 11.00 |
| 12.7 | 1/2" | 35.00 | 30.00 | 25.40 | 19.20 | 6.20 | 8.00 |
| 25.8 | 5/8" | 41.50 | 36.45 | 31.75 | 25.00 | 10.30 | 8.00 |
| 19.05 | 3/4" | 43.80 | 40.00 | 34.93 | 25.80 | 10.30 | 9.50 |
| 25.4 | 1" | 51.00 | 47.00 | 41.28 | 29.00 | 11.10 | 12.00 |