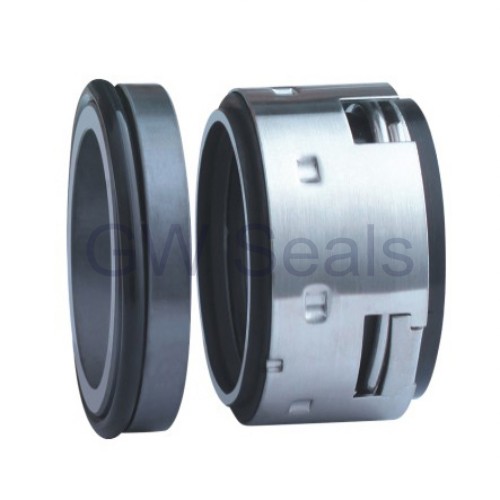 Specifications:


)industrial seal manufacture.
2)replace john crane 502 type
3)use in industrial pump
4)past ISO
John crane mechanical seal 502
Applications:
use in all types of rotatig equiment ,pump ,mixers,agitators for most general and light chemical duties,wherever an elastomer secondary seal can be used.
general applications.
Operating limits
temperature:-40-150degree
pressure:0-4Mpa
speeds:13m/sec
Design feature:
1.single face ,single spring unbalance ,rubber bellow structure.
2.the seal face is driven through the spring.
3.designs conform to ISO3069 DIN24960 and GB6556standard
Materials
Rotary :B,U1,U2,Q1,Q2
Static:B,U1,U2,Q1,Q2
Rubber:P,X,E,V,M1,M2.
Spring:F,G
Material should be according to the operating condition.
we also can produce according your drawing.


| | | | | | | |
| --- | --- | --- | --- | --- | --- | --- |
| Metric Size | D1 | D2 | D3 | L1 | L2 | L3 |
| 14 | 25 | 21 | 24 | 23.0 | 12.0 | 12.8 |
| 16 | 27 | 23 | 26 | 23.0 | 12.0 | 12.8 |
| 18 | 33 | 27 | 32 | 24.0 | 13.5 | 14.5 |
| 20 | 35 | 29 | 34 | 24.0 | 13.5 | 14.5 |
| 22 | 37 | 31 | 36 | 24.0 | 13.5 | 14.5 |
| 24 | 39 | 33 | 38 | 26.7 | 13.3 | 14.3 |
| 25 | 40 | 34 | 39 | 27.0 | 13.0 | 14.0 |
| 28 | 43 | 37 | 42 | 30.0 | 12.5 | 13.5 |
| 30 | 45 | 39 | 44 | 30.5 | 12.0 | 13.0 |
| 32 | 48 | 42 | 46 | 30.5 | 12.0 | 13.0 |
| 33 | 48 | 42 | 47 | 30.5 | 12.0 | 13.0 |
| 35 | 50 | 44 | 49 | 30.5 | 12.0 | 13.0 |
| 38 | 56 | 49 | 54 | 32.0 | 13.0 | 14.0 |
| 40 | 58 | 51 | 56 | 32.0 | 13.0 | 14.0 |
| 43 | 61 | 54 | 59 | 32.0 | 13.0 | 14.0 |
| 45 | 63 | 56 | 61 | 32.0 | 13.0 | 14.0 |
| 48 | 66 | 59 | 64 | 32.0 | 13.0 | 14.0 |
| 50 | 70 | 62 | 66 | 34.0 | 13.5 | 14.5 |
| 53 | 73 | 65 | 69 | 34.0 | 13.5 | 14.5 |
| 55 | 75 | 67 | 71 | 34.0 | 13.5 | 14.5 |
| 58 | 78 | 70 | 78 | 39.0 | 13.5 | 14.2 |
| 60 | 80 | 72 | 80 | 39.0 | 13.5 | 14.2 |
| 63 | 83 | 75 | 83 | 39.0 | 13.5 | 14.2 |
| 65 | 85 | 77 | 85 | 39.0 | 13.5 | 14.2 |
| 68 | 90 | 81 | 88 | 39.0 | 13.5 | 14.2 |
| 70 | 92 | 83 | 89 | 45.5 | 14.5 | 15.2 |
| 75 | 97 | 88 | 96 | 45.5 | 14.5 | 15.2 |
| 80 | 105 | 95 | 104 | 45.0 | 15.0 | 15.7 |
| 85 | 110 | 100 | 108 | 45.0 | 15.0 | 15.7 |
| 90 | 115 | 105 | 114 | 50.0 | 15.0 | 15.7 |
| 95 | 120 | 110 | 118 | 50.0 | 15.0 | 15.7 |
| 100 | 125 | 115 | 124 | 50.0 | 15.0 | 15.7 |