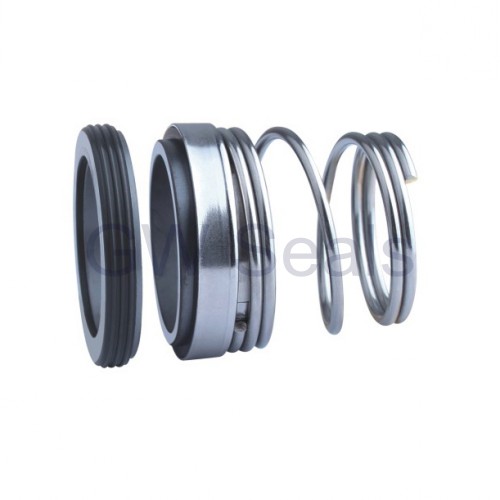 Descriptions:
Temperature: -20C to +110C
Pressure: Up to 8bar
Speed: Up ti 10m/s

MG9 designed for medium-range pressures and loads. Within its operating limits it can be put to universal use in pumps thanks to the following attributes:
For all titting lengths only one bellows unit for each size of diameter.
Lenghth compersation by means of a conical spring of required length. With single easy to-fit clamp-type connector
No need to change existing pump installation space
Smallest extemal diameter of bellows seals on the world market
No torsion on bellow and spring
No adhesive joints
Self-centering conical spring (supported direring on the shaft without an additional washer)
Technical approval issued by a topname, global pump manufactuturer
Compact, unsplit bellows unit with stationary seal face for reliable installation and operation (deposits between the bellow and the seal face are impossible, ruling out all risk of misalignment.


| | | | | | | | | |
| --- | --- | --- | --- | --- | --- | --- | --- | --- |
| Metric Size | D3 | D2 | D1 | L1 | L12 | L13 | L14 | L2 |
| | | | | | | | | |
| 10 | 19.6 | 17.0 | 21.0 | 44.0 | 33.4 | 25.9 | 25.0 | 6.6 |
| 12 | 21.6 | 19.0 | 23.0 | 44.0 | 33.4 | 25.9 | 25.0 | 6.6 |
| 14 | 24.0 | 21.0 | 25.0 | 44.0 | 33.4 | 28.4 | 25.0 | 6.6 |
| 15 | 25.0 | - | - | 44.0 | - | - | 25.0 | - |
| 16 | 26.5 | 23.0 | 27.0 | 44.0 | 33.4 | 28.4 | 25.0 | 6.6 |
| 18 | 29.0 | 27.0 | 33.0 | 44.0 | 37.5 | 30.0 | 25.0 | 7.5 |
| 20 | 31.5 | 29.0 | 35.0 | 44.0 | 37.5 | 30.0 | 25.0 | 7.5 |
| 22 | 33.0 | 31.0 | 37.0 | 44.0 | 37.5 | 30.0 | 25.0 | 7.5 |
| 24 | 37.0 | 33.0 | 39.0 | 44.0 | 42.5 | 32.5 | 25.0 | 7.5 |
| 25 | 38.0 | 34.0 | 40.0 | 44.0 | 42.5 | 32.5 | 25.0 | 7.5 |
| 28 | 41.0 | 37.0 | 43.0 | 60.0 | 42.5 | 35.0 | 33.0 | 7.5 |
| 30 | 43.0 | 39.0 | 45.0 | 60.0 | 42.5 | 35.0 | 33.0 | 7.5 |
| 32 | 45.0 | 42.0 | 48.0 | 60.0 | 47.5 | 35.0 | 33.0 | 7.5 |
| 33 | 46.0 | 42.0 | 48.0 | 60.0 | 47.5 | 35.0 | 33.0 | 7.5 |
| 35 | 48.0 | 44.0 | 50.0 | 60.0 | 47.5 | 35.0 | 33.0 | 7.5 |
| 38 | 52.5 | 49.0 | 56.0 | 60.0 | 46.0 | 36.0 | 33.0 | 9.0 |
| 40 | 55.5 | 51.0 | 58.0 | 60.0 | 46.0 | 36.0 | 33.0 | 9.0 |
| 43 | 58.5 | 54.0 | 61.0 | 71.0 | 51.0 | 36.0 | 41.0 | 9.0 |
| 45 | 60.5 | 56.0 | 63.0 | 71.0 | 51.0 | 36.0 | 41.0 | 9.0 |
| 48 | 64.0 | 59.0 | 66.0 | 71.0 | 51.0 | 36.0 | 41.0 | 9.0 |
| 50 | 66.0 | 62.0 | 70.0 | 72.5 | 50.5 | 38.0 | 42.5 | 9.5 |
| 53 | 69.0 | 65.0 | 73.0 | 71.0 | 59.0 | 36.5 | 41.0 | 11.0 |
| 55 | 71.0 | 67.0 | 75.0 | 71.0 | 59.0 | 36.5 | 41.0 | 11.0 |
| 58 | 76.0 | 70.0 | 78.0 | 71.0 | 59.0 | 41.5 | 41.0 | 11.0 |
| 60 | 78.0 | 72.0 | 80.0 | 71.0 | 59.0 | 41.5 | 41.0 | 11.0 |
| 63 | 82.0 | 75.0 | 83.0 | - | 59.0 | 41.5 | - | 11.0 |
| 65 | 84.0 | 77.0 | 85.0 | 70.0 | 69.0 | 41.5 | 49.0 | 11.0 |
| 68 | 87.0 | 81.0 | 90.0 | 70.0 | 68.7 | 41.2 | 49.0 | 11.3 |
| 70 | 89.0 | 83.0 | 92.0 | 70.0 | 68.7 | 48.7 | 49.0 | 11.3 |
| 75 | 95.0 | 88.0 | 97.0 | 73.0 | 68.7 | 48.7 | 52.0 | 11.3 |
| 80 | 101.5 | 95.0 | 105.0 | 79.0 | 78.0 | 48.0 | 56.0 | 12.0 |
| 85 | - | 100.0 | 110.0 | 79.0 | 76.0 | 46.0 | 56.0 | 14.0 |
| 90 | 111.5 | 105.0 | 115.0 | 83.0 | 76.0 | 51.0 | 59.0 | 14.0 |
| 95 | - | 110.0 | 120.0 | 83.0 | 76.0 | 51.0 | 59.0 | 14.0 |
| 100 | 122.5 | 115.0 | 125.0 | 86.0 | 76.0 | 51.0 | 62.0 | 14.0 |
| | | | | | | | | |