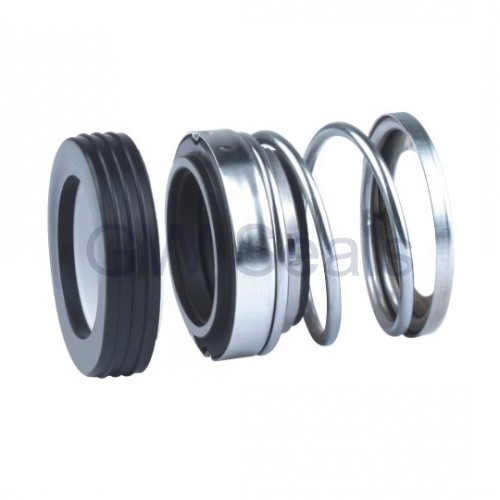 Single-Spring elastomer bellow Seal


Bellows Mechanical Seal
We supply kinds of elastomer mechanical seal,O-ring mechanical seal, PTFE mechanical seal and metal bellow mechanical seal,which most of mechanical seal are equivalent to Burgmann mechanical seal, John Crane mechanical seal, Pillar mechanical seals.
Function: for Pump,Compressor
Certificate: ISO9001
Export Area: Africa,East Asia,Europe

We mainly supply pump mechanical seals, auto cooling pump seals, industrial pump seals, carbon face sela and ceramic face seal, etc.
Features:
· Single seal
· Loosely inserted seal face provides self-adjusting capability
· In-house manufactured sliding parts
Advantages:
· self-adjusting to shaft misalignments deflections
· The length of the contact area of the bellows with the shaft is an optimum compromise between ease of assembly (less friction) sufficient adhesive force for torque transmission.
· the seal fulfills very specific leakage requirements.


Features of single spring mechanical seal
2. Stationery Ring: Ceramic/SIC/TC
3. Rotary Ring: Carbon/SIC/TC
4. Secondary Seal: NBR/EPDM/VITON
5. Spring&Metal parts: Steel

Working condtions of single spring mechanical seal
1. Pressure: Within 0.8Mpa
2. Speed: Within 10m/s
3. Temperature: -20 to 150 degree celsius


| | | | | |
| --- | --- | --- | --- | --- |
| Metric Size | D3 | D1 | L2 | L1 |
| 560A-8 | 18.20 | 21 | 7 | 11.2 |
| 560A-9 | 18.2 | 24 | 7 | 16.2 |
| 560A-10 | 20.6 | 24 | 7 | 16.2 |
| 560A-11 | 20.6 | 24 | 7 | 16.2 |
| 560A-12 | 21.8 | 26 | 7 | 17.2 |
| 560A-13 | 21.8 | 26 | 7 | 17.2 |
| 560A-14 | 26.4 | 28 | 7 | 18.2 |
| 560A-15 | 26.4 | 28 | 7 | 18.2 |
| 560A-16 | 26.4 | 32 | 8 | 19.2 |
| 560A-17 | 29.5 | 32 | 8 | 19.2 |
| 560A-18 | 29.5 | 35 | 8 | 19.2 |
| 560A-19 | 29.5 | 35 | 8 | 19.2 |
| 560A-20 | 31.6 | 38 | 8 | 20.2 |
| 560A-22 | 33.6 | 40 | 8 | 20.2 |
| 560A-25 | 39.6 | 44 | 9 | 20.2 |
| 560A-28 | 45 | 46 | 9 | 21.2 |
| 560A-30 | 46.6 | 50 | 9 | 22.2 |
| 560A-32 | 46.6 | 54 | 9 | 24.2 |
| 560A-35 | 50.8 | 58 | 10 | 26.2 |
| 560A-38 | 54.3 | 60 | 10 | 27.2 |
| 560A-40 | 57.3 | 64 | 10 | 28.2 |
| 560A-45 | 61.3 | 66 | 10 | 30.2 |
| 560A-50 | 67.8 | 72 | 10 | 32.2 |