OperationalConditions:

Temperature:-20C to +120C
Pressure: Up to 1.4Mpa
Speed: Up to 15m/s

GW1A Elastomer Bellows Seal is widely recognized as the industry workhorse with a proven track record of exceptional performance. The Type 1 is suitable for a wide range of service conditions: from water and steam to chemicals and corrosive materials.
- For use in pumps, mixers, blenders, agitators, air compressors, blowers, fans and other rotary shaft equipment.
- For pulp and paper, petrochemical, food processing, wastewater treatment, chemical processing, power generation and other demanding applications.
The material can also be made an electrical conductor and has applications in resistance heating, flame igniters and electronic components. Structural and wear applications are constantly developingWe are specially produce kinds of water pump seal and we have good quality.If you are interested in our products,please just contact with us as soon as possible.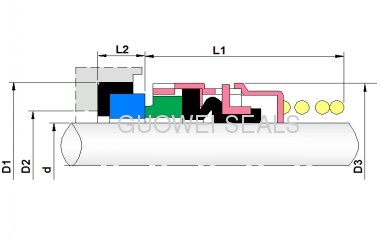 | | | | | | | | | | |
| --- | --- | --- | --- | --- | --- | --- | --- | --- | --- |
| Inch Size | d | D3 | D2 | D1 | L1 | L2 | Metric Size | d | D3 |
| | | | | | | | | | |
| 0.375 | 9.5 | 22 | 11 | 24.6 | 44 | 8.7 | 14 | 14 | 29 |
| 0.500 | 12.7 | 25.0 | 13.5 | 27.8 | 44.0 | 8.7 | 16 | 16 | 29 |
| 0.625 | 15.8 | 29.0 | 17.0 | 31.0 | 44.0 | 10.3 | 18 | 18 | 32 |
| 0.750 | 19.0 | 32.0 | 20.0 | 34.2 | 44.0 | 10.3 | 19 | 19 | 32 |
| 0.813 | 20.6 | 33.0 | 21.5 | 35.7 | 44.0 | 10.3 | 20 | 20 | 33 |
| 0.875 | 22.2 | 35.0 | 23.0 | 37.3 | 44.0 | 10.3 | 24 | 24 | 38 |
| 1.000 | 25.4 | 38.0 | 26.5 | 40.5 | 44.0 | 10.3 | 25 | 25 | 38 |
| 1.125 | 28.5 | 46.0 | 29.5 | 47.7 | 60.0 | 11.9 | 27 | 27 | 46 |
| 1.250 | 31.7 | 49.0 | 32.5 | 50.8 | 60.0 | 11.9 | 28 | 28 | 46 |
| 1.375 | 34.9 | 52.0 | 36.5 | 54.0 | 60.0 | 11.9 | 29 | 29 | 46 |
| 1.500 | 38.1 | 56.0 | 39.5 | 57.2 | 60.0 | 11.9 | 30 | 30 | 49 |
| 1.625 | 41.2 | 59.0 | 42.5 | 60.4 | 60.0 | 11.9 | 32 | 32 | 49 |
| 1.750 | 44.4 | 62.0 | 46.0 | 63.5 | 71.0 | 11.9 | 34 | 34 | 52 |
| 1.875 | 47.6 | 65.0 | 49.0 | 66.7 | 71.0 | 11.9 | 35 | 35 | 52 |
| 2.000 | 50.8 | 68.0 | 52.0 | 69.9 | 71.0 | 13.5 | 38 | 38 | 56 |
| 2.125 | 53.9 | 71.0 | 55.5 | 73.1 | 71.0 | 13.5 | 40 | 40 | 59 |
| 2.250 | 57.1 | 75.0 | 58.5 | 76.2 | 71.0 | 13.5 | 42 | 42 | 62 |
| 2.375 | 60.3 | 78.0 | 61.5 | 79.4 | 71.0 | 13.5 | 45 | 45 | 62 |
| 2.500 | 63.5 | 81.0 | 65.0 | 82.6 | 71.0 | 13.5 | 48 | 48 | 65 |
| 2.625 | 66.6 | 86.0 | 68.0 | 92.1 | 70.0 | 15.9 | 50 | 50 | 68 |
| 2.750 | 69.8 | 89.0 | 71.0 | 95.3 | 70.0 | 15.9 | 54 | 54 | 71 |
| 2.875 | 73.0 | 92.0 | 74.5 | 98.5 | 73.0 | 15.9 | 55 | 55 | 75 |
| 3.000 | 76.2 | 95.0 | 77.5 | 101.6 | 73.0 | 15.9 | 60 | 60 | 78 |
| 3.125 | 79.3 | 102.0 | 80.5 | 111.2 | 79.0 | 19.9 | 65 | 65 | 86 |
| 3.250 | 82.5 | 105.0 | 84.0 | 114.3 | 79.0 | 19.9 | 70 | 70 | 89 |
| 3.375 | 85.7 | 108.0 | 87.0 | 117.5 | 79.0 | 19.9 | 73 | 73 | 92 |
| 3.500 | 88.9 | 111.0 | 90.5 | 120.7 | 79.0 | 19.9 | 75 | 75 | 95 |
| 3.625 | 92.0 | 114.0 | 93.5 | 123.9 | 83.0 | 19.9 | 80 | 80 | 105 |
| 3.750 | 95.2 | 117.0 | 96.5 | 127.0 | 83.0 | 19.9 | 90 | 90 | 114 |
| 3.875 | 98.4 | 121.0 | 100.0 | 130.2 | 86.0 | 19.9 | 95 | 95 | 118 |
| 4.000 | 101.6 | 124.0 | 103.0 | 133.4 | 86.0 | 19.9 | 100 | 100 | 124 |