Descriptions
:
Single Seal & Unbalanced
*Independent of Direction of Rotation
*Elastomer Bellows
*To DIN 24960
BIA series is commonly used mechanical seal. It transmits torque through rubber bellows. The seal has compact structure and small axial size. This seal is commonly used for oil, Water and other weak corrosive medium. It can also be used as double seal through double compensational ring.
Operating limit
specification: 18~90mm
Pressure: ≤1.0Mpa
Temperature:-20~120 Celsius
Linear speed: ≤10m/s
Axial movement: +/-1.0mm
Combination of materials
Seal face: Graphite, Silicon carbide, Tungsten carbide ,Aluminum oxide
Secondary sealing: tetrafluoroethylene.
Metal component: Stainless steel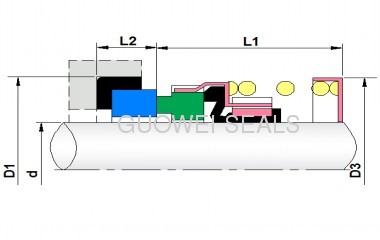 | | | | | |
| --- | --- | --- | --- | --- |
| Metric Size | D3 | D1 | L1 | L2 |
| | | | | |
| 14 | 27.5 | 30 | 19.0 | 5.0 |
| 16 | 28.5 | 32 | 21.0 | 5.0 |
| 18 | 31.2 | 35 | 22.5 | 7.5 |
| 20 | 31.7 | 35 | 21.0 | 8.0 |
| 25 | 40.2 | 40 | 25.5 | 8.0 |
| 28 | 44.1 | 43 | 25.5 | 8.0 |
| 30 | 45.1 | 45 | 25.5 | 9.0 |
| 32 | 49.0 | 48 | 33.5 | 9.0 |
| 33 | 49.0 | 48 | 33.5 | 9.0 |
| 35 | 50.2 | 50 | 33.5 | 9.0 |
| 38 | 55.3 | 56 | 33.5 | 9.0 |
| 40 | 57.0 | 58 | 33.5 | 9.0 |
| 43 | 60.7 | 61 | 36.5 | 9.5 |
| 45 | 62.5 | 63 | 38.0 | 9.5 |
| 48 | 66.5 | 66 | 38.0 | 9.5 |
| 50 | 68.6 | 70 | 38.0 | 9.5 |
| 53 | 70.8 | 73 | 41.0 | 9.5 |
| 55 | 72.4 | 75 | 41.0 | 9.5 |
| 58 | 80.0 | 78 | 42.0 | 9.5 |
| 60 | 83.0 | 80 | 42.0 | 9.5 |
| 65 | 87.2 | 85 | 42.0 | 10.0 |
| 70 | 91.6 | 92 | 45.0 | 11.0 |
| 75 | 99.4 | 97 | 47.0 | 12.0 |
| 80 | 104.6 | 104 | 55.0 | 12.0 |
| 85 | 111.0 | 109 | 64.0 | 12.0 |
| 90 | 113.0 | 114 | 66.0 | 12.0 |