High Quality Stationary Seal Ring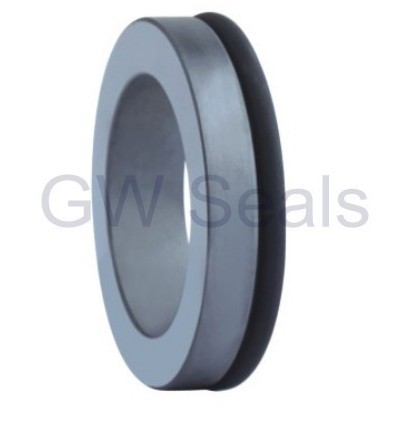 Specifications
sic stationary seal ring
1.Reaction/Sintered Silicon Carbide
2.Manufacturer
3.Professional design
4.Export for more than 10 years


Characteristics
1. Seal is a cartridge unit assembled on a sleeve for immediate installation. Entire unit can be installed and /or removed without removal of pump casing.
2.Axial size is perfect.
3.The stress on seal face is equal.
4. Mechanical seal is stable and reliable.
5.The service life is long.
Stationary Ring: Ceramic (Alumina), Silicon Carbide Reaction Bonded, Silicon Carbide Sintered Pressureless, Ni-binder Tungsten Carbide, Co-binder Tungsten Carbide
Rotary Ring: Resin Impregnated Carbon Graphite (Furan), Antimony Impreg, Carbon Graphite, Silicon Carbide Sintered Pressureless, Silicon Carbide Reaction Bonded, Co-binder Tungsten Carbide, Ni-binder Tungsten Carbide
Secondary Seal: Nitrile (NBR), Ethylene Propylene (EPDM), Fluorocarbon Rubber (Viton)
Silicon Carbide is the only chemical compound of carbon and silicon. It was originally produced by a high temperature electro-chemical reaction of sand and carbon. Silicon carbide is an excellent abrasive and has been produced and made into grinding wheels and other abrasive products for over one hundred years. Today the material has been developed into a high quality technical grade ceramic with very good mechanical properties. It is used in abrasives, refractories, ceramics, and numerous high-performance applications. The material can also be made an electrical conductor and has applications in resistance heating, flame igniters and electronic components. Structural and wear applications are constantly developing
Parameter

SSiC

RBSiC

Carbide SiC

Purity( % )

>97

>90

30%

Hardness( HRA )

≥90

≥90

≥85

Grain Size( um )

0.5-0.7

8-20

20-40

Density( g/cm3 )

3.06-3.15

>3.05

>2.65

Bend Strength( MPa )

400-580

350-450

200

Compressive Strength(MPa)

3900

>2500

1800

Fracture Toughness( MPA )

3.05-4.6

4.3




Elastic Modulus( GPa )

380-410

420




Thermal Conductivity(W/M.K)

102.6

35-110

125

Coefficient of heat Expansion( L/°C )

4.02x10-6

4.3x10-6

3x10-6

Poisson Ratio





High Quality Stationary Seal Ring



We are specialized in sintered reaction bonded silicon carbide (RB SIC) and pressureless sintering silicon carbide(SSIC) mechanical part, the material is alpha sintered silicon carbide.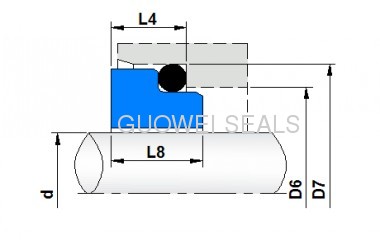 | | | | | | |
| --- | --- | --- | --- | --- | --- |
| /SIZE | d | D6 | D7 | L4 | L8 |
| GWG4-10 | 10 | 15.5 | 19.2 | 6.6 | 7.5 |
| GWG4-12 | 12 | 17.5 | 21.6 | 5.6 | 6.6 |
| GWG4-14 | 14 | 20.5 | 24.6 | 6.6 | 6.5 |
| GWG4-15 | 15 | 20.5 | 24.6 | 5.6 | 7.5 |
| GWG4-16 | 16 | 22 | 28 | 6.6 | 8.5 |
| GWG4-18 | 18 | 24 | 30 | 7.5 | 9.0 |
| GWG4-20 | 20 | 29.5 | 35 | 8.0 | 8.5 |
| GWG4-22 | 22 | 29.5 | 35 | 7.5 | 8.5 |
| GWG4-24 | 24 | 32 | 38 | 7.5 | 8.5 |
| GWG4-25 | 25 | 32 | 38 | 7.5 | 8.5 |
| GWG4-26 | 26 | 34 | 40 | 8.0 | 9.0 |
| GWG4-28 | 28 | 36 | 42 | 9.0 | 10.0 |
| GWG4-30 | 30 | 39.2 | 45 | 10.5 | 11.5 |
| GWG4-32 | 32 | 42.2 | 48 | 10.5 | 11.5 |
| GWG4-33 | 33 | 44.2 | 50 | 11.0 | 12.0 |
| GWG4-35 | 35 | 46.2 | 52 | 11.0 | 12.0 |
| GWG4-38 | 38 | 49.2 | 55 | 10.3 | 11.3 |
| GWG4-40 | 40 | 52.5 | 58 | 10.8 | 11.8 |
| GWG4-42 | 42 | 53.3 | 62 | 12.0 | 13.2 |
| GWG4-43 | 43 | 53.3 | 62 | 12.0 | 13.2 |
| GWG4-45 | 45 | 55.3 | 64 | 11.6 | 12.8 |
| GWG4-48 | 48 | 59.7 | 68.4 | 11.6 | 12.8 |
| GWG4-50 | 50 | 60.8 | 69.3 | 11.6 | 12.8 |
| GWG4-53 | 53 | 63.8 | 72.3 | 12.3 | 13.5 |
| GWG4-55 | 55 | 66.5 | 75.4 | 13.3 | 14.5 |
| GWG4-58 | 58 | 69.5 | 78.4 | 13.3 | 14.5 |
| GWG4-60 | 60 | 71.5 | 80.4 | 13.3 | 14.5 |
| GWG4-63 | 63 | 74.5 | 83.4 | 13.3 | 14.2 |
| GWG4-65 | 65 | 76.5 | 85.4 | 13.0 | 14.2 |
| GWG4-68 | 68 | 82.7 | 91.5 | 13.7 | 14.9 |
| GWG4-70 | 70 | 83 | 92 | 13.0 | 14.2 |
| GWG4-75 | 75 | 90.2 | 99 | 14.0 | 15.2 |
| GWG4-80 | 80 | 95.2 | 104 | 15.0 | 16.2 |
| GWG4-85 | 85 | 100.2 | 109 | 14.8 | 16.0 |
| GWG4-90 | 90 | 105.2 | 114 | 14.8 | 16.0 |
| GWG4-95 | 95 | 111.6 | 120.3 | 15.8 | 17.0 |
| GWG4-100 | 100 | 114.5 | 123.3 | 15.8 | 17.0 |