Stationary Sealing Ring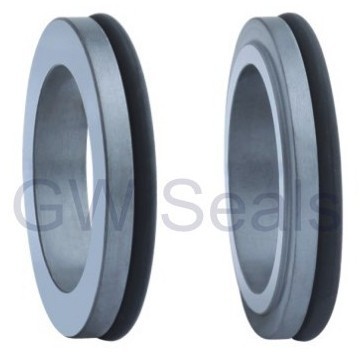 Features

1. Mechanical seal performance is stable and reliable.
2.The service life is loog.
3.The mechanical seal permits accommodation of many different fluids by using of wide variety of materials. 4.QA: Aquired the ISO9001 certification for our seals products

Advantages:
High effeciency of heat-conduction
Heat shock stablity
Wear resistant
High temper-endure(up to 1200°C-1600°C)
Self-lubrication
High performance of mechanical strength
Chemical corrosion-resistant

We are specialized in sintered reaction bonded silicon carbide (RB SIC) and pressureless sintering silicon carbide(SSIC) mechanical part, the material is alpha sintered silicon carbide.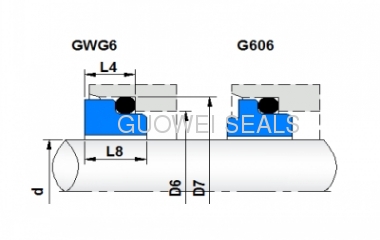 | | | | | | |
| --- | --- | --- | --- | --- | --- |
| /SIZE | d | D6 | D7 | L4 | L8 |
| GWG6-10 | 10 | 17 | 21 | 6.6 | 7.5 |
| GWG6-12 | 12 | 19 | 23 | 6.6 | 7.5 |
| GWG6-14 | 14 | 21 | 25 | 6.6 | 7.5 |
| GWG6-16 | 16 | 23 | 27 | 6.6 | 7.5 |
| GWG6-18 | 18 | 27 | 33 | 7.5 | 8.5 |
| GWG6-20 | 20 | 29 | 35 | 7.5 | 8.5 |
| GWG6-22 | 22 | 31 | 37 | 7.5 | 8.5 |
| GWG6-24 | 24 | 33 | 39 | 7.5 | 8.5 |
| GWG6-25 | 25 | 34 | 40 | 7.5 | 8.5 |
| GWG6-28 | 28 | 37 | 43 | 7.5 | 8.5 |
| GWG6-30 | 30 | 39 | 45 | 7.5 | 8.5 |
| GWG6-32 | 32 | 42 | 48 | 7.5 | 8.5 |
| GWG6-33 | 33 | 42 | 48 | 7.5 | 8.5 |
| GWG6-35 | 35 | 44 | 50 | 7.5 | 8.5 |
| GWG6-38 | 38 | 49 | 56 | 9.0 | 10.0 |
| GWG6-40 | 40 | 51 | 58 | 9.0 | 10.0 |
| GWG6-43 | 43 | 54 | 61 | 9.0 | 10.0 |
| GWG6-45 | 45 | 56 | 63 | 9.0 | 10.0 |
| GWG6-48 | 48 | 59 | 66 | 9.0 | 10.0 |
| GWG6-50 | 50 | 62 | 70 | 9.5 | 10.5 |
| GWG6-53 | 53 | 65 | 73 | 11.0 | 12.0 |
| GWG6-55 | 55 | 67 | 75 | 11.0 | 12.0 |
| GWG6-58 | 58 | 70 | 78 | 11.0 | 12.0 |
| GWG6-60 | 60 | 72 | 80 | 11.0 | 12.0 |
| GWG6-63 | 63 | 75 | 83 | 11.0 | 12.0 |
| GWG6-65 | 65 | 77 | 85 | 11.0 | 12.0 |
| GWG6-68 | 68 | 81 | 90 | 11.3 | 12.5 |
| GWG6-70 | 70 | 83 | 92 | 11.3 | 12.5 |
| GWG6-75 | 75 | 88 | 97 | 11.3 | 12.5 |
| GWG6-80 | 80 | 95 | 105 | 12.0 | 13.0 |
| GWG6-85 | 85 | 100 | 110 | 14.0 | 15.0 |
| GWG6-90 | 90 | 105 | 115 | 14.0 | 15.0 |
| GWG6-95 | 95 | 110 | 120 | 14.0 | 15.0 |
| GWG6-100 | 100 | 115 | 125 | 14.0 | 15.0 |