Hot Sale Parallel Single-Spring Seal


It is equivalent to VULCAN TYPE97

Specifications
1)machanical seal manufacture in china.
2)use in industrial pump
3)good quality good price
4)past test

Applications
Used in all types of rotating equipment,pumps,mixers,agitators and compressors.
To suit industries such as ageneral chemical,oil refining,petrochemical,pharmaceutical,
food processing,pulp and paper,and waste water treatment.

Design Feature
Installed inside,single face,unbalanced structure,single spring and driven by the abreast
would rings on both ends of the spring,driven by brace ear and claw transmission.
The spring rotating direction determined by the direction of the shaft rotation.

Advantages
We can produce it according to the samples,customers′design and specification are accepted.
We also can design and produce rubber mold and rubber products by ourselves.High quality and best price.
We appreciate every customer and every order be it one piece or thousands.To get more details and any questions,please feel free to contact us .We are ready serve for you.
High Performance Parallel Single-Spring Seal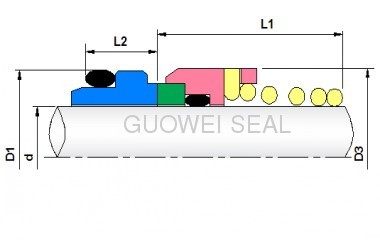 | | | | | | | | | |
| --- | --- | --- | --- | --- | --- | --- | --- | --- |
| /Size | D1 | D2 | D3 | D4 | L | L1 | L3 | L4 |
| GW970-20 | 33.32 | 29.06 | 34.50 | 37.00 | 44.50 | 35.50 | 15.00 | 4.00 |
| GW970-25 | 39.85 | 33.84 | 41.00 | 43.00 | 49.00 | 39.00 | 16.00 | 4.00 |
| GW970-28 | 43.05 | 37.01 | 42.00 | 46.00 | 51.00 | 41.00 | 16.00 | 4.00 |
| GW970-30 | 44.63 | 38.61 | 45.50 | 47.50 | 51.00 | 41.00 | 16.00 | 4.00 |
| GW970-32 | 46.32 | 40.28 | 47.00 | 49.00 | 54.00 | 44.00 | 16.00 | 4.00 |
| GW970-35 | 49.48 | 43.46 | 50.00 | 52.50 | 57.00 | 47.00 | 16.00 | 4.00 |
| GW970-38 | 52.56 | 46.63 | 53.00 | 55.50 | 57.00 | 47.00 | 16.00 | 4.00 |
| GW970-40 | 54.25 | 48.13 | 55.00 | 57.00 | 57.00 | 47.00 | 16.00 | 4.00 |
| GW970-42 | 55.83 | 49.81 | 55.50 | 58.50 | 57.00 | 47.00 | 16.00 | 4.00 |
| GW970-45 | 59.02 | 52.98 | 60.00 | 62.00 | 57.00 | 47.00 | 16.00 | 4.00 |
| GW970-50 | 65.37 | 59.33 | 66.00 | 68.50 | 68.50 | 58.50 | 18.00 | 5.00 |
| GW970-55 | 70.03 | 64.01 | 71.00 | 73.00 | 70.00 | 60.00 | 18.00 | 5.00 |
| GW970-60 | 76.38 | 70.36 | 77.00 | 81.00 | 73.00 | 63.00 | 18.00 | 5.00 |
| GW970-65 | 81.23 | 75.21 | 82.00 | 85.50 | 76.00 | 66.00 | 18.00 | 5.00 |
| GW970-70 | 85.90 | 79.88 | 87.00 | 90.50 | 76.00 | 66.00 | 18.00 | 5.00 |
| GW970-75 | 90.77 | 84.73 | 91.50 | 97.00 | 81.00 | 71.00 | 18.00 | 5.00 |
| GW970-80 | 100.29 | 94.26 | 99.50 | 103.00 | 87.50 | 77.50 | 18.00 | 5.00 |
| GW970-85 | 104.77 | 98.93 | 105.50 | 108.00 | 87.50 | 77.50 | 18.00 | 5.00 |
| GW970-90 | 109.82 | 103.78 | 110.50 | 114.50 | 92.00 | 82.00 | 18.00 | 5.00 |
| GW970-95 | 114.30 | 108.46 | 115.50 | 119.00 | 92.00 | 82.00 | 18.00 | 5.00 |
| GW970-100 | 119.33 | 113.31 | 120.00 | 124.00 | 92.00 | 82.00 | 18.00 | 5.00 |
| GW970-105 | 127.00 | 121.16 | 128.00 | 132.00 | 98.50 | 88.50 | 18.00 | 5.00 |
| GW970-110 | 131.77 | 126.01 | 133.00 | 137.00 | 85.50 | 88.50 | 18.00 | 5.00 |
| GW970-115 | 136.52 | 130.68 | 137.50 | 142.00 | 85.50 | 88.50 | 18.00 | 5.00 |
| GW970-120 | 142.87 | 137.03 | 144.00 | 147.00 | 105.00 | 95.00 | 18.00 | 5.00 |