Specifications
OPERATING LIMITS
Temperature: -50°C~+200°C
Pressure: ≤1.2MPa
Speed: ≤20m/s
MATERIAL
Stationary Ring (SiC/TC/Carbon)
Rotary Ring (SiC/TC/)
Secondary Seal (VITON/PTFE/PTFE+VITON)
Spring & Other Parts (SS304/SS316)
O-RING MOUNTED SEAT.
3.Professional design
Seal is a cartridge unit assembled on a sleeve for immediate installation. Entire unit can be installed and /or removed without removal of pump casing..Axial size is perfect.The stress on seal face is equal.
Mechanical seal is stable and reliable.The service life is long.
High Quality Stationary Seal Ring
We are specialized in sintered reaction bonded silicon carbide (RB SIC) and pressureless sintering silicon carbide(SSIC) mechanical part, the material is alpha sintered silicon carbide.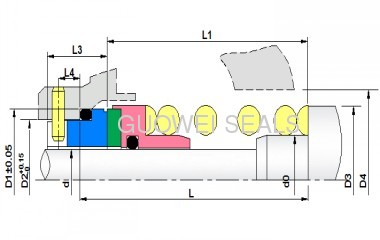 | | | | | | | | | | |
| --- | --- | --- | --- | --- | --- | --- | --- | --- | --- |
| GW950 | | | | | | | | | |
| Metric Size | D1 | D2 | D3 | D4 | L | L1 | L3 | L4 | d0 |
| GW950-20 | 33.32 | 29.06 | 34.50 | 37.00 | 36.50 | 27.50 | 15.00 | 4.00 | 24.00 |
| GW950-25 | 39.85 | 33.84 | 41.00 | 43.00 | 40.00 | 30.00 | 16.00 | 4.00 | 28.57 |
| GW950-28 | 43.05 | 37.01 | 42.00 | 46.00 | 41.50 | 31.50 | 16.00 | 4.00 | 31.75 |
| GW950-30 | 44.63 | 38.61 | 45.50 | 47.50 | 41.50 | 31.50 | 16.00 | 4.00 | 33.32 |
| GW950-32 | 46.32 | 40.28 | 47.00 | 49.00 | 44.50 | 34.50 | 16.00 | 4.00 | 34.92 |
| GW950-35 | 49.48 | 43.46 | 50.00 | 52.50 | 47.50 | 37.50 | 16.00 | 4.00 | 38.10 |
| GW950-38 | 52.56 | 46.63 | 53.00 | 55.50 | 47.50 | 37.50 | 16.00 | 4.00 | 42.88 |
| GW950-40 | 54.25 | 48.13 | 55.00 | 57.00 | 47.50 | 37.50 | 16.00 | 4.00 | 44.45 |
| GW950-42 | 55.83 | 49.81 | 55.50 | 58.50 | 47.50 | 37.50 | 16.00 | 4.00 | 460.20 |
| GW950-45 | 59.02 | 52.98 | 60.00 | 62.00 | 47.50 | 37.50 | 16.00 | 4.00 | 49.20 |
| GW950-50 | 65.37 | 59.33 | 66.00 | 68.50 | 55.50 | 45.50 | 18.00 | 5.00 | 53.97 |
| GW950-55 | 70.03 | 64.01 | 71.00 | 73.00 | 57.00 | 47.00 | 18.00 | 5.00 | 58.72 |
| GW950-60 | 76.38 | 70.36 | 77.00 | 81.00 | 60.50 | 50.50 | 18.00 | 5.00 | 65.07 |
| GW950-65 | 81.23 | 75.21 | 82.00 | 85.50 | 63.50 | 53.50 | 18.00 | 5.00 | 69.85 |
| GW950-70 | 85.90 | 79.88 | 87.00 | 90.50 | 63.50 | 53.50 | 18.00 | 5.00 | 74.60 |
| GW950-75 | 90.77 | 84.73 | 91.50 | 97.00 | 66.60 | 56.60 | 18.00 | 5.00 | 79.37 |
| GW950-80 | 100.29 | 94.26 | 99.50 | 103.00 | 73.00 | 63.00 | 18.00 | 5.00 | 85.73 |
| GW950-85 | 104.77 | 98.93 | 105.50 | 108.00 | 73.00 | 63.00 | 18.00 | 5.00 | 90.00 |
| GW950-90 | 109.82 | 103.78 | 110.50 | 114.50 | 78.00 | 68.00 | 18.00 | 5.00 | 95.25 |
| GW950-95 | 114.30 | 108.46 | 115.50 | 119.00 | 78.00 | 68.00 | 18.00 | 5.00 | 100.00 |
| GW950-100 | 119.33 | 113.31 | 120.00 | 124.00 | 78.00 | 68.00 | 18.00 | 5.00 | 104.77 |
| GW950-105 | 127.00 | 121.16 | 128.00 | 132.00 | 82.50 | 72.50 | 18.00 | 5.00 | 111.00 |
| GW950-110 | 131.77 | 126.01 | 133.00 | 137.00 | 82.50 | 72.50 | 18.00 | 5.00 | 116.00 |
| GW950-115 | 136.52 | 130.68 | 137.50 | 142.00 | 82.50 | 72.50 | 18.00 | 5.00 | 121.00 |
| GW950-120 | 142.87 | 137.03 | 144.00 | 147.00 | 89.00 | 79.00 | 18.00 | 5.00 | 126.00 |