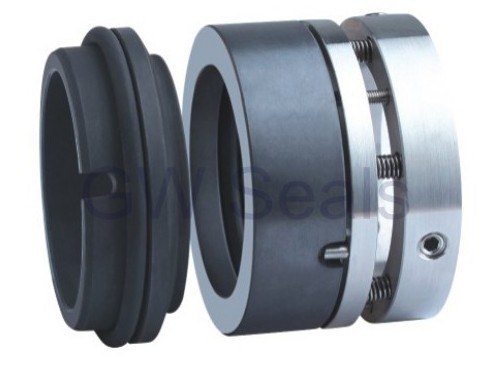 Specifications :
1> Multiple spring seal.
2> High quality in and Economicalseal
3> Designed to qutlast single spring seals.
4> Unbalanced mutiple spring seal with utilizing a simple rugger open rotary unit design. Equivalent to flowserve RO SEALS

It is an excellent choice for water, beer and other beverage.and any light duty appliction where supplerior , reliable performance is expected.

We specialize in design and manufacturer the complicated and corrosive media, high temperature, high speed, high press etc mechanical seals according to clients requested. The series of high performance mechanical seals for Petroleum Equipment, such as chemical process pump, oil and gas, petrochemicals pump, mixer, agitator, compressor, etc.
And exported to the USA, Canada, Germany, Japan and Middle East. We execute such guild line as leading minds, client first, polish design, top-ranking quality. In the 16 years hostory, we've brought up a hard working and innovative team, who speared every effort to meet the client's needs by execute SPP and good after-sales services.
Application:
The mechanical seal range is designed for universal application and the interchangeable parts concept is ideal forthrust ring is retained by the drive lugs preve stock rationalization.The seal faces are loosely inserted and can be easily exchanged, the nting the spring falling out.Other special technical features include stationary seal stop and limitatlion of spring stroke to prevent excessive carbon wear.
These seals are highly reliable in performance. And popularly used in food,drink, dairy product and pharmacy industries.

A simple, proven and rugged design with dependability that has made it a favorite choice of maintenance personnel to seal ANSI chemical pumps. Heavy cross sections of the rotary components resist high levels of corrosion. Utilizing a simple rugged open rotary unit design, aggressive, abrasive and viscous fluids can be sealed easier than with other ANSI seal types that incorporate shrouded spring rotaries. The RO series is available off the shelf in standard configurations for all of the popular chemical pumps offered today.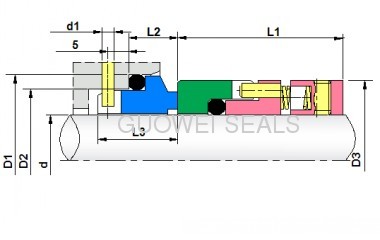 | | | | | | | | | |
| --- | --- | --- | --- | --- | --- | --- | --- | --- |
| SIZE | d | D3 | D2 | D1 | d1 | L1 | L2 | L3 |
| 20 | 20 | 34 | 29 | 35 | 3 | 35 | 13 | 21 |
| 22 | 22 | 36 | 31 | 37 | 3 | 35 | 13 | 21 |
| 24 | 24 | 38 | 33 | 39 | 3 | 35 | 13 | 21 |
| 25 | 25 | 39 | 34 | 40 | 3 | 35 | 13 | 21 |
| 28 | 28 | 42 | 37 | 43 | 3 | 35 | 13 | 21 |
| 30 | 30 | 44 | 39 | 45 | 3 | 35 | 13 | 21 |
| 32 | 32 | 46 | 42 | 48 | 3 | 35 | 13 | 21 |
| 33 | 33 | 47 | 42 | 48 | 3 | 35 | 13 | 21 |
| 35 | 35 | 49 | 44 | 50 | 3 | 35 | 13 | 21 |
| 38 | 38 | 54 | 50 | 56 | 4 | 38 | 13 | 21 |
| 40 | 40 | 56 | 52 | 58 | 4 | 38 | 13 | 21 |
| 43 | 43 | 59 | 55 | 61 | 4 | 38 | 13 | 21 |
| 45 | 45 | 61 | 57 | 63 | 4 | 38 | 13 | 21 |
| 48 | 48 | 64 | 60 | 66 | 4 | 38 | 13 | 21 |
| 50 | 50 | 66 | 62 | 68 | 4 | 39 | 13 | 21 |
| 53 | 53 | 69 | 65 | 71 | 4 | 40 | 13 | 21 |
| 55 | 55 | 71 | 67 | 73 | 4 | 40 | 13 | 21 |
| 58 | 58 | 76 | 70 | 79 | 4 | 41 | 16 | 24 |
| 60 | 60 | 78 | 72 | 81 | 4 | 41 | 16 | 24 |
| 63 | 63 | 81 | 75 | 84 | 4 | 41 | 16 | 24 |
| 65 | 65 | 83 | 77 | 86 | 4 | 41 | 16 | 24 |
| 68 | 68 | 86 | 81 | 90 | 4 | 41 | 16 | 24 |
| 70 | 70 | 90 | 83 | 92 | 4 | 42 | 16 | 24 |
| 75 | 75 | 95 | 88 | 97 | 4 | 42 | 16 | 24 |
| 80 | 80 | 100 | 96 | 105 | 4 | 42 | 16 | 24 |
| 85 | 85 | 105 | 101 | 110 | 4 | 43 | 16 | 24 |
| 90 | 90 | 110 | 106 | 115 | 4 | 45 | 16 | 24 |
| 95 | 95 | 115 | 111 | 120 | 4 | 45 | 16 | 24 |
| 100 | 100 | 120 | 116 | 125 | 4 | 45 | 16 | 24 |