Standard O-ring Multiple Mechanical Spring Seals , REPLACE JOHN CRANE TYPE 59B MECHANICAL SEALS.
OPERATION LIMITS:
Temperature: -20°C~+180°C
Pressure: ≤2.5MPa
Speed: ≤15m/s
MATERIAL
Stationary Ring (SiC/TC/Ceramic)
Rotary Ring (SiC/TC/Carbon)
Secondary Seal (VITON/PTFE/PTFE+VITON)
Spring & Other Parts (SS304/SS316)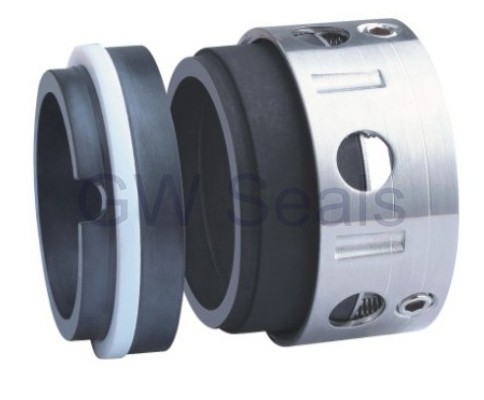 We execute such guild line as leading minds, client first, polish design, top-ranking quality. In the 16 years hostory, we've brought up a hard working and innovative team, who speared every effort to meet the client's needs by execute SPP and good after-sales services.

John Crane Type 58B Replacement seal has been presented above, want more similar products, please click pump mechanical john crane seals.
Our John Crane Type 58B Replacement seal is good in quality and competitive in price. We manufacture John Crane Type 58B Replacement seal and supply OEM, ODM service according to your requirement
Features
1.Superior quality and best price
2.Characteristics: high and low temperature resistant, acidalkali resistant, ozone resistant,aging resistant, weather resistant, good insulation property, anti-toxic, good air-permeable, etc.
3.Application:automobile , Ship ,The train , Power plant and so on
4.Size tolerance: exactly upon your request or standard tolerance.
5.OEM and ODM orders are welcome.
6.Strong point: we have our own mold center, can develop most kinds of high tech requireds
7.Designing and manufacturing all of oil seals, gaskedts,o-rings ,and so on.
8.We promise the high quality but competitive price of Oil Seal,Rubber Oil Seal, O-Ring, Rubber Seal, Rubber Gasket, Rubber Ring, Sealing Ring, Sealing Gasket.
9.Small order quantity is welcomed.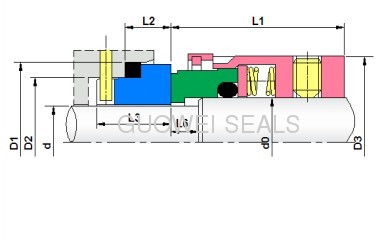 | | | | | | | | | |
| --- | --- | --- | --- | --- | --- | --- | --- | --- |
| /Size | d0 | D3 | D2 | D1 | L1 | L2 | L3 | L6 |
| GW58B-14 | 18.00 | 32.00 | 21.00 | 25.00 | 30.50 | 12.00 | 18.50 | 6.00 |
| GW58B-16 | 20.00 | 34.00 | 23.00 | 27.00 | 30.50 | 12.00 | 18.50 | 6.00 |
| GW58B-18 | 22.00 | 36.00 | 27.00 | 33.00 | 31.50 | 13.50 | 20.50 | 6.50 |
| GW58B-20 | 24.00 | 38.00 | 29.00 | 35.00 | 31.50 | 13.50 | 20.50 | 6.50 |
| GW58B-22 | 26.00 | 40.00 | 31.00 | 37.00 | 31.50 | 13.50 | 20.50 | 6.50 |
| GW58B-24 | 28.00 | 42.00 | 33.00 | 39.00 | 34.20 | 13.30 | 20.30 | 6.70 |
| GW58B-25 | 30.00 | 44.00 | 34.00 | 40.00 | 34.50 | 13.00 | 20.00 | 7.00 |
| GW58B-28 | 33.00 | 47.00 | 37.00 | 43.00 | 37.50 | 12.50 | 19.50 | 7.50 |
| GW58B-30 | 35.00 | 49.00 | 39.00 | 45.00 | 38.00 | 12.00 | 19.00 | 8.00 |
| GW58B-32 | 38.00 | 54.00 | 42.00 | 48.00 | 38.00 | 12.00 | 19.00 | 8.00 |
| GW58B-33 | 38.00 | 54.00 | 42.00 | 48.00 | 38.00 | 12.00 | 19.00 | 8.00 |
| GW58B-35 | 40.00 | 56.00 | 44.00 | 50.00 | 38.00 | 12.00 | 19.00 | 8.00 |
| GW58B-38 | 43.00 | 59.00 | 49.00 | 56.00 | 39.50 | 13.00 | 20.00 | 10.00 |
| GW58B-40 | 45.00 | 61.00 | 51.00 | 58.00 | 39.50 | 13.00 | 20.00 | 10.00 |
| GW58B-43 | 48.00 | 64.00 | 54.00 | 61.00 | 39.50 | 13.00 | 20.00 | 10.00 |
| GW58B-45 | 50.00 | 66.00 | 56.00 | 63.00 | 39.50 | 13.00 | 20.00 | 10.00 |
| GW58B-48 | 53.00 | 69.00 | 59.00 | 66.00 | 39.50 | 13.00 | 20.00 | 10.00 |
| GW58B-50 | 55.00 | 71.00 | 62.00 | 70.00 | 44.00 | 13.50 | 20.50 | 11.50 |
| GW58B-53 | 58.00 | 78.00 | 65.00 | 73.00 | 44.00 | 13.50 | 20.50 | 11.50 |
| GW58B-55 | 60.00 | 80.00 | 67.00 | 75.00 | 44.00 | 13.50 | 20.50 | 11.50 |
| GW58B-58 | 63.00 | 83.00 | 70.00 | 78.00 | 49.00 | 13.50 | 20.50 | 11.50 |
| GW58B-60 | 65.00 | 85.00 | 72.00 | 80.00 | 49.00 | 13.50 | 20.50 | 11.50 |
| GW58B-63 | 68.00 | 88.00 | 75.00 | 83.00 | 49.00 | 13.50 | 20.50 | 11.50 |
| GW58B-65 | 70.00 | 90.00 | 77.00 | 85.00 | 49.00 | 13.50 | 20.50 | 11.50 |
| GW58B-70 | 75.00 | 95.00 | 83.00 | 92.00 | 55.50 | 14.50 | 21.50 | 13.50 |
| GW58B-75 | 80.00 | 104.00 | 88.00 | 97.00 | 55.50 | 14.50 | 21.50 | 13.50 |
| GW58B-80 | 85.00 | 109.00 | 95.00 | 105.00 | 55.00 | 15.00 | 22.00 | 13.00 |
| GW58B-85 | 90.00 | 114.00 | 100.00 | 110.00 | 60.00 | 15.00 | 22.00 | 13.00 |
| GW58B-90 | 95.00 | 119.00 | 105.00 | 115.00 | 60.00 | 15.00 | 22.00 | 13.00 |
| GW58B-95 | 100.00 | 124.00 | 110.00 | 120.00 | 60.00 | 15.00 | 22.00 | 13.00 |
| GW58B-100 | 105.00 | 129.00 | 115.00 | 125.00 | 60.00 | 15.00 | 22.00 | 13.00 |