Specification:
Pressure: ≤2.5 Mpa
Temperature : ≤ 180
Linear speed: ≤20m/s

1> Double seal
2> Unbalanced
3> Independent of direction of rotation
4> Multiple springs
Its designed functions are the same as M7 series. Except for the installation dimensions of drive base, the other installation dimensions (d1<100mm) are subject to DIN24960. It is suitable for medium that contain fiber or solids which can easily solidify.
Combination of materials
Sealing face:Graphite, Silicon carbide, Tungsten carbide,Aluminum oxide
Secondary sealing:Acrylonitrile rubber, Fluorine rubber, Ethylene propylene rubber,PTFE
Metal component: Stainless steel
The mechanical seal range is designed for universal application and the interchangeable parts concept is ideal forthrust ring is retained by the drive lugs preve stock rationalization.The seal faces are loosely inserted and can be easily exchanged, the nting the spring falling out.Other special technical features include stationary seal stop and limitatlion of spring stroke to prevent excessive carbon wear.
These seals are highly reliable in performance. And popularly used in food,drink, dairy product and pharmacy industries.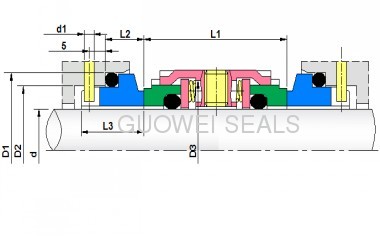 | | | | | | | | | |
| --- | --- | --- | --- | --- | --- | --- | --- | --- |
| Size | d | D2 | D1 | D3 | d1 | L1 | L2 | L3 |
| 18 | 18 | 27 | 33 | 33 | 3 | 38 | 11.5 | 19.5 |
| 20 | 20 | 29 | 35 | 35 | 3 | 38 | 11.5 | 19.5 |
| 22 | 22 | 31 | 37 | 37 | 3 | 38 | 11.5 | 19.5 |
| 24 | 24 | 33 | 39 | 39 | 3 | 38 | 11.5 | 19.5 |
| 25 | 25 | 34 | 40 | 40 | 3 | 38 | 11.5 | 19.5 |
| 28 | 28 | 37 | 43 | 43 | 3 | 39 | 11.5 | 19.5 |
| 30 | 30 | 39 | 45 | 45 | 3 | 39 | 11.5 | 19.5 |
| 32 | 32 | 42 | 48 | 47 | 3 | 39 | 11.5 | 19.5 |
| 33 | 33 | 42 | 48 | 48 | 3 | 39 | 11.5 | 19.5 |
| 35 | 35 | 44 | 50 | 50 | 3 | 39 | 11.5 | 19.5 |
| 38 | 38 | 49 | 56 | 55 | 4 | 41 | 14.0 | 22.0 |
| 40 | 40 | 51 | 58 | 57 | 4 | 42 | 14.0 | 22.0 |
| 43 | 43 | 54 | 61 | 60 | 4 | 42 | 14.0 | 22.0 |
| 45 | 45 | 56 | 63 | 62 | 4 | 42 | 14.0 | 22.0 |
| 48 | 48 | 59 | 66 | 65 | 4 | 42 | 14.0 | 22.0 |
| 50 | 50 | 62 | 70 | 67 | 4 | 43 | 15.0 | 23.0 |
| 53 | 53 | 65 | 73 | 70 | 4 | 43 | 15.0 | 23.0 |
| 55 | 55 | 67 | 75 | 72 | 4 | 43 | 15.0 | 23.0 |
| 58 | 58 | 70 | 78 | 79 | 4 | 56 | 15.0 | 23.0 |
| 60 | 60 | 72 | 80 | 81 | 4 | 56 | 15.0 | 23.0 |
| 63 | 63 | 75 | 83 | 84 | 4 | 55 | 15.0 | 23.0 |
| 65 | 65 | 77 | 85 | 86 | 4 | 55 | 15.0 | 23.0 |
| 68 | 68 | 81 | 90 | 89 | 4 | 55 | 18.0 | 26.0 |
| 70 | 70 | 83 | 92 | 91 | 4 | 56 | 18.0 | 26.0 |
| 75 | 75 | 88 | 97 | 99 | 4 | 56 | 18.0 | 26.0 |
| 80 | 80 | 95 | 105 | 104 | 4 | 56 | 18.2 | 26.2 |
| 85 | 85 | 100 | 110 | 109 | 4 | 56 | 18.2 | 26.2 |
| 90 | 90 | 105 | 115 | 114 | 4 | 56 | 18.2 | 26.2 |
| 95 | 95 | 110 | 120 | 119 | 4 | 56 | 17.2 | 25.2 |
| 100 | 100 | 115 | 125 | 124 | 4 | 56 | 17.2 | 25.2 |