Multiple Spring O-ring Mechanical Seals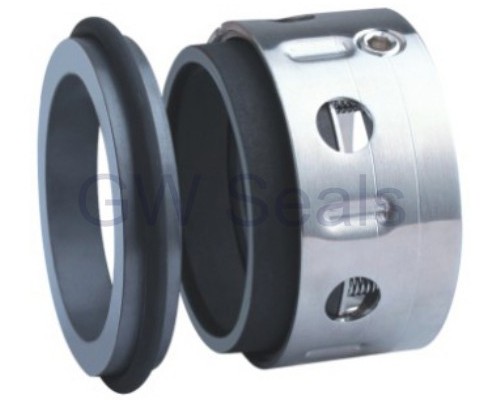 Specifications
mechanical spring seals
1.Media-oil, water, salt
2.Sealing ring-O ring
3.Multi-springs

Features
1.This mechanical seal for water pumps, transmission torque is by lugs.
2.Structure is simple.
3.Mechanical seal performance is stable and reliable.

Advantages
We are a professional manufacturer producing various types of sealing parts. We can do stamping, processing, mold making, machining, spark-erosion wire cutting, clod rolling forming, CNC punching, laser cutting, and sheet metal manufacturing and welding.

Our sealing elements include pump seals, chemical pump seals, double-end machinery seals, automotive pump seals, and automotive air conditioning compressor seals. We also can offer different kinds of non-standard seals to meet customers' needs. Meanwhile, we have rich experience in various types of stamping and sheet metal parts and mold making.

| | | | | | |
| --- | --- | --- | --- | --- | --- |
| /Size | D3 | D2 | D1 | L1 | L3 |
| GW8-1-0.500 | 26.19 | 14.00 | 25.60 | 20.62 | 7.92 |
| GW8-1-0.625 | 30.15 | 17.50 | 31.95 | 19.05 | 10.31 |
| GW8-1-0.750 | 33.32 | 21.00 | 35.12 | 22.23 | 10.31 |
| GW8-1-0.875 | 36.50 | 24.00 | 38.30 | 23.80 | 10.31 |
| GW8-1-1.000 | 39.67 | 27.50 | 41.48 | 25.40 | 11.10 |
| GW8-1-1.125 | 42.85 | 30.50 | 44.65 | 26.97 | 11.10 |
| GW8-1-1.250 | 47.63 | 33.50 | 47.83 | 26.97 | 11.10 |
| GW8-1-1.375 | 50.80 | 37.00 | 51.00 | 28.58 | 11.10 |
| GW8-1-1.500 | 53.98 | 40.00 | 54.18 | 28.58 | 11.10 |
| GW8-1-1.625 | 60.33 | 43.50 | 60.53 | 34.93 | 12.70 |
| GW8-1-1.750 | 63.50 | 46.50 | 63.70 | 34.93 | 12.70 |
| GW8-1-1.875 | 66.68 | 49.50 | 66.88 | 34.93 | 12.70 |
| GW8-1-2.000 | 69.85 | 53.00 | 70.05 | 34.93 | 12.70 |
| GW8-1-2.125 | 76.20 | 56.00 | 76.40 | 42.85 | 14.27 |
| GW8-1-2.250 | 79.38 | 59.00 | 79.58 | 42.85 | 14.27 |
| GW8-1-2.375 | 82.55 | 62.50 | 82.75 | 42.85 | 14.27 |
| GW8-1-2.500 | 85.73 | 65.50 | 85.93 | 42.85 | 14.27 |
| GW8-1-2.625 | 88.90 | 68.50 | 85.93 | 42.85 | 15.88 |
| GW8-1-2.750 | 92.08 | 72.00 | 89.10 | 42.85 | 15.88 |
| GW8-1-2.875 | 95.25 | 75.00 | 95.45 | 42.85 | 15.88 |
| GW8-1-3.000 | 96.82 | 78.50 | 98.63 | 42.85 | 15.88 |
| GW8-1-3.125 | 100.00 | 81.50 | 101.80 | 42.85 | 19.84 |
| GW8-1-3.250 | 104.78 | 84.50 | 104.98 | 42.85 | 19.84 |
| GW8-1-3.375 | 107.95 | 88.00 | 108.15 | 42.85 | 19.84 |
| GW8-1-3.500 | 111.13 | 91.00 | 111.33 | 42.85 | 19.84 |
| GW8-1-3.625 | 114.30 | 94.00 | 114.50 | 42.85 | 19.84 |
| GW8-1-3.750 | 117.48 | 97.50 | 117.68 | 42.85 | 19.84 |
| GW8-1-3.875 | 120.65 | 100.50 | 120.85 | 42.85 | 19.84 |
| GW8-1-4.000 | 123.83 | 103.50 | 124.03 | 42.85 | 19.84 |