Hot Sale Multiple O-ring Mechanical Spring Seals


Specifications
1.High and low temperature resistant
2.Materials & sizes in stock
3.ISO9001: 2000
4.Accept OEM & ODM

Features

1.It is applicable to hydraulic cylinder piston sealing.
2.Produced by CNC machine and lathe.
3.OEM and ODM orders are welcome.
4.Excellent performance of sliding, no creeping effect
5.Good dynamic and static sealing
6.High abrasion and service life
7.Wide using temperature range ,high chemical stability
(It depends on the material of O-ring)
8.Simple and convenient installation

We are a professional manufacturer producing various types of sealing parts. We can do stamping, processing, mold making, machining, spark-erosion wire cutting, clod rolling forming, CNC punching, laser cutting, and sheet metal manufacturing and welding. Looking forward to your cooperation.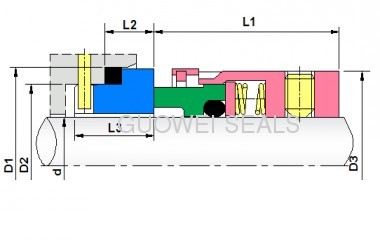 | | | | | | | |
| --- | --- | --- | --- | --- | --- | --- |
| /Size | D3 | D2 | D1 | L1 | L2 | L3 |
| GW58U-14 | 24.00 | 21.00 | 25.00 | 23.00 | 12.00 | 18.50 |
| GW58U-16 | 26.00 | 23.00 | 27.00 | 23.00 | 12.00 | 18.50 |
| GW58U-18 | 32.00 | 27.00 | 33.00 | 24.00 | 13.50 | 20.50 |
| GW58U-20 | 34.00 | 29.00 | 35.00 | 24.00 | 13.50 | 20.50 |
| GW58U-22 | 36.00 | 31.00 | 37.00 | 24.00 | 13.50 | 20.50 |
| GW58U-24 | 38.00 | 33.00 | 39.00 | 26.50 | 13.50 | 20.30 |
| GW58U-25 | 39.00 | 34.00 | 40.00 | 27.00 | 13.00 | 20.00 |
| GW58U-28 | 42.00 | 37.00 | 43.00 | 30.00 | 12.50 | 19.50 |
| GW58U-30 | 44.00 | 39.00 | 45.00 | 30.50 | 12.00 | 19.00 |
| GW58U-32 | 46.00 | 42.00 | 48.00 | 30.50 | 12.00 | 19.00 |
| GW58U-33 | 47.00 | 42.00 | 48.00 | 30.50 | 12.00 | 19.00 |
| GW58U-35 | 49.00 | 44.00 | 50.00 | 30.50 | 12.00 | 19.00 |
| GW58U-38 | 54.00 | 49.00 | 56.00 | 32.00 | 13.00 | 20.00 |
| GW58U-40 | 56.00 | 51.00 | 58.00 | 32.00 | 13.00 | 20.00 |
| GW58U-43 | 59.00 | 54.00 | 61.00 | 32.00 | 13.00 | 20.00 |
| GW58U-45 | 61.00 | 56.00 | 63.00 | 32.00 | 13.00 | 20.00 |
| GW58U-48 | 64.00 | 59.00 | 65.00 | 32.00 | 13.00 | 20.00 |
| GW58U-50 | 66.00 | 62.00 | 70.00 | 34.00 | 13.50 | 20.50 |
| GW58U-53 | 69.00 | 65.00 | 73.00 | 34.00 | 13.50 | 20.50 |
| GW58U-55 | 71.00 | 67.00 | 75.00 | 34.00 | 13.50 | 20.50 |
| GW58U-58 | 78.00 | 70.00 | 78.00 | 39.00 | 13.50 | 20.50 |
| GW58U-60 | 80.00 | 72.00 | 80.00 | 39.00 | 13.50 | 20.50 |
| GW58U-63 | 83.00 | 75.00 | 83.00 | 39.00 | 13.50 | 20.50 |
| GW58U-65 | 85.00 | 77.00 | 85.00 | 39.00 | 13.50 | 20.50 |
| GW58U-68 | 88.00 | 81.00 | 90.00 | 39.00 | 13.50 | 20.50 |
| GW58U-70 | 90.00 | 83.00 | 92.00 | 45.50 | 14.50 | 21.50 |
| GW58U-75 | 99.00 | 88.00 | 97.00 | 45.50 | 14.50 | 21.50 |
| GW58U-80 | 104.00 | 95.00 | 105.00 | 45.00 | 15.00 | 22.00 |
| GW58U-85 | 109.00 | 100.00 | 110.00 | 45.00 | 15.00 | 22.00 |
| GW58U-90 | 114.00 | 105.00 | 115.00 | 50.00 | 15.00 | 22.00 |
| GW58U-95 | 119.00 | 110.00 | 120.00 | 50.00 | 15.00 | 22.00 |
| GW58U-100 | 124.00 | 115.00 | 125.00 | 50.00 | 15.00 | 22.00 |