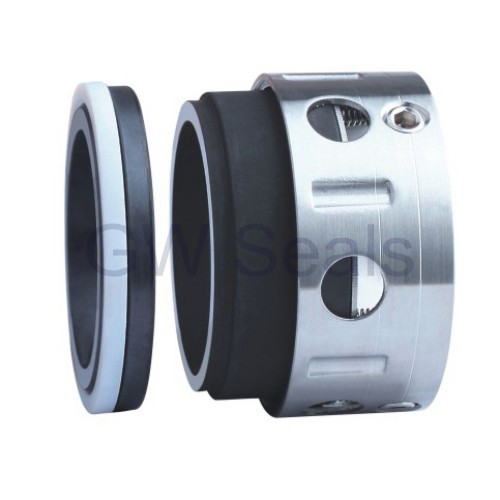 John crane PTFE WEDGE mechanical SEALS, Replace type 9B seals


Main Markets:
1. Europe
2. South America
3. Southeast Asia
4. Middle East   



Application Scope:
      John crane PTFE WEDGE mechanical SEALS is a typical multiple springs , standars balanced mechanical seal with various kinds of materials and face combination which is in conformity with DIN24960,ISO3069,API 610 and GB6556 standards,typically used in process pumps in order to meet the requirements of industry.


       Our products are of the standards of ISO3069,GB6556. Now,we have passed the Conformity of Quality Management System ISO9001:2000.


The main products here we serve well are for the industries of oil field, oil refining, mining, chemical plants, water pumps, pharmaceutical factories, refrigeration, power stations, and shipbuilding.


♦We can provide manufacture services according to your drawings or requirements.



| | | | | | | | | |
| --- | --- | --- | --- | --- | --- | --- | --- | --- |
| (/Inch) | | | | | | | | |
| 1.000 | 25.40 | 22.20 | 40.10 | 22.90 | 38.10 | 33.32 | 10.30 | 6.40 |
| 1.125 | 28.50 | 25.40 | 43.36 | 26.10 | 41.28 | 34.93 | 11.10 | 7.90 |
| 1.250 | 31.70 | 28.50 | 48.13 | 29.30 | 44.45 | 34.93 | 11.10 | 7.90 |
| 1.375 | 34.90 | 28.50 | 51.30 | 29.30 | 44.45 | 36.50 | 11.10 | 8.70 |
| 1.500 | 38.10 | 31.70 | 54.48 | 32.40 | 47.63 | 36.50 | 11.10 | 8.70 |
| 1.625 | 41.20 | 34.90 | 60.83 | 35.60 | 50.80 | 44.45 | 11.10 | 8.70 |
| 1.750 | 44.40 | 38.10 | 64.00 | 38.80 | 53.98 | 44.45 | 11.10 | 9.50 |
| 1.875 | 47.60 | 41.20 | 66.68 | 42.40 | 60.33 | 44.45 | 12.70 | 9.50 |
| 2.000 | 50.80 | 44.40 | 70.36 | 45.50 | 63.50 | 44.45 | 12.70 | 9.50 |
| 2.125 | 53.90 | 47.60 | 76.70 | 48.70 | 66.68 | 52.37 | 12.70 | 11.10 |
| 2.250 | 57.10 | 50.80 | 79.88 | 51.90 | 69.85 | 52.37 | 12.70 | 11.10 |
| 2.375 | 60.30 | 53.90 | 83.06 | 55.00 | 76.20 | 52.37 | 14.30 | 11.10 |
| 2.500 | 63.50 | 57.10 | 86.23 | 58.20 | 79.38 | 52.37 | 14.30 | 11.10 |
| 2.625 | 66.60 | 60.30 | 89.40 | 61.40 | 82.55 | 52.37 | 14.30 | 11.10 |
| 2.750 | 69.80 | 63.50 | 92.58 | 64.60 | 85.73 | 52.37 | 14.30 | 11.10 |
| 2.875 | 73.00 | 66.60 | 95.76 | 67.70 | 85.73 | 52.37 | 15.90 | 11.10 |
| 3.000 | 76.20 | 69.80 | 97.33 | 70.90 | 88.90 | 52.37 | 15.90 | 11.10 |
| 3.125 | 79.30 | 73.00 | 100.50 | 74.10 | 95.25 | 52.37 | 15.90 | 11.10 |
| 3.250 | 82.50 | 76.20 | 105.28 | 77.30 | 98.43 | 52.37 | 15.90 | 14.30 |
| 3.375 | 85.70 | 79.30 | 108.46 | 80.50 | 101.60 | 52.37 | 19.80 | 14.30 |
| 3.500 | 88.90 | 82.50 | 111.63 | 83.60 | 104.78 | 52.37 | 19.80 | 14.30 |
| 3.625 | 92.00 | 85.70 | 114.80 | 86.80 | 107.95 | 52.37 | 19.80 | 14.30 |
| 3.750 | 95.20 | 88.90 | 117.98 | 90.00 | 111.13 | 52.37 | 19.80 | 14.30 |
| 3.875 | 98.40 | 92.00 | 121.16 | 93.10 | 114.30 | 52.37 | 19.80 | 14.30 |
| 4.000 | 101.60 | 95.20 | 124.33 | 96.30 | 117.48 | 52.37 | 19.80 | 14.30 |