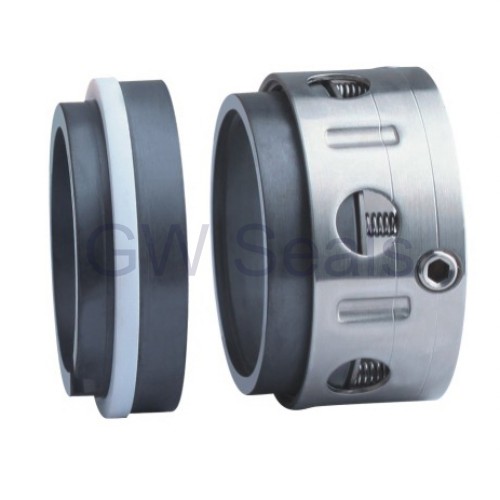 Specifications:


We offer Mechanical Seals T-59u.
Mediums: Water, oil, organic liquids, middle
corrosion liquids and other
mediums including solid granule.
Pressure: Up to 20bar or 290psi
Speed: Up to 25m/s or 82ft/s
Temperature: -40 Degree Celsius to 230 Degree Celsiusor -40F to 446F
depending on materials used To ISO 3069 and DIN 24960

Material
Seal face/Primary ring:
Carbon graphite, Silicon carbide,
Tungsten carbide.
Seat/Mating ring:
Alumina ceramic, Silicon carbide,
Tungsten carbide.
Secondary seals:
NBR, Viton, PTFE, EPDM, Silicone.
Spring and others
SUS304. SUS316, SUS316L etc..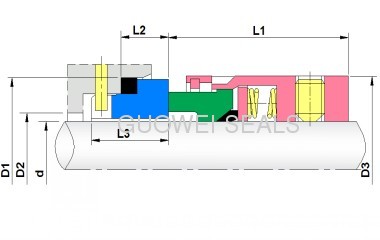 | | | | | | | | |
| --- | --- | --- | --- | --- | --- | --- | --- |
| Metric Size | d | D3 | D2 | D1 | L1 | L2 | L3 |
| 14 | 14 | 24 | 21 | 25 | 23.0 | 12.0 | 18.5 |
| 16 | 16 | 26 | 23 | 27 | 23.0 | 12.0 | 18.5 |
| 18 | 18 | 32 | 27 | 33 | 24.0 | 13.5 | 20.5 |
| 20 | 20 | 34 | 29 | 35 | 24.0 | 13.5 | 20.5 |
| 22 | 22 | 36 | 31 | 37 | 24.0 | 13.5 | 20.5 |
| 24 | 24 | 38 | 33 | 39 | 26.7 | 13.3 | 20.3 |
| 25 | 25 | 39 | 34 | 40 | 27.0 | 13.0 | 20.0 |
| 28 | 28 | 42 | 37 | 43 | 30.0 | 12.5 | 19.5 |
| 30 | 30 | 44 | 39 | 45 | 30.5 | 12.0 | 19.0 |
| 32 | 32 | 46 | 42 | 48 | 30.5 | 12.0 | 19.0 |
| 33 | 33 | 47 | 42 | 48 | 30.5 | 12.0 | 19.0 |
| 35 | 35 | 49 | 44 | 50 | 30.5 | 12.0 | 19.0 |
| 38 | 38 | 54 | 49 | 56 | 32.0 | 13.0 | 20.0 |
| 40 | 40 | 56 | 51 | 58 | 32.0 | 13.0 | 20.0 |
| 43 | 43 | 59 | 54 | 61 | 32.0 | 13.0 | 20.0 |
| 45 | 45 | 61 | 56 | 63 | 32.0 | 13.0 | 20.0 |
| 48 | 48 | 64 | 59 | 66 | 32.0 | 13.0 | 20.0 |
| 50 | 50 | 66 | 62 | 70 | 34.0 | 13.5 | 20.5 |
| 53 | 53 | 69 | 65 | 73 | 34.0 | 13.5 | 20.5 |
| 55 | 55 | 71 | 67 | 75 | 34.0 | 13.5 | 20.5 |
| 58 | 58 | 78 | 70 | 78 | 39.0 | 13.5 | 20.5 |
| 60 | 60 | 80 | 72 | 80 | 39.0 | 13.5 | 20.5 |
| 63 | 63 | 83 | 75 | 83 | 39.0 | 13.5 | 20.5 |
| 65 | 65 | 85 | 77 | 85 | 39.0 | 13.5 | 20.5 |
| 68 | 68 | 88 | 81 | 90 | 39.0 | 13.5 | 20.5 |
| 70 | 70 | 90 | 83 | 92 | 45.5 | 14.5 | 21.5 |
| 75 | 75 | 95 | 88 | 97 | 45.5 | 14.5 | 21.5 |
| 80 | 80 | 104 | 95 | 105 | 45.0 | 15.0 | 22.0 |
| 85 | 85 | 109 | 100 | 110 | 45.0 | 15.0 | 22.0 |
| 90 | 90 | 114 | 105 | 115 | 50.0 | 15.0 | 22.0 |
| 95 | 95 | 119 | 110 | 120 | 50.0 | 15.0 | 22.0 |
| 100 | 100 | 124 | 115 | 125 | 50.0 | 15.0 | 22.0 |