PTFT Wedge mechanical seals


Construction Features
Single seal face
Balanced(59B),unbalanced(59U)
PTFE seal ring
Independent of direction or rotation
To DIN24960
Identical to mechanical seal of John Crane type 9U /9B

Application Scope
All types of rotating equipment,pumps,mixers,agitators and compressors.
To suit industries such as general chemical,oil refining,petrochemical,pharmaceutical,food processing,pulp and paper and waste water treatment.
It is apt for low and medium viscosity media with or without small amount of
granules in low-and medium temperature, like light hydrocarbon, light oil, some organic material,
water, etc.


Our products are of the standards of ISO3069,GB6556,API610,DIN24960,BS5257and JB4127.Now,we have passed the Conformity of Quality Management System ISO9001.

The main products here we serve well are for the industries of oil field, oil refining, mining, chemical plants, water pumps, pharmaceutical factories, refrigeration, power stations, and shipbuilding.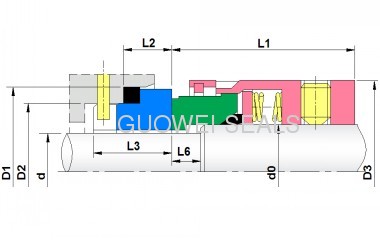 | | | | | | | | | | |
| --- | --- | --- | --- | --- | --- | --- | --- | --- | --- |
| (/Metric) | | | | | | | | | |
| 14 | 18 | 14 | 32 | 21 | 25 | 30.5 | 12.0 | 18.5 | 6.0 |
| 16 | 20 | 16 | 34 | 23 | 27 | 30.5 | 12.0 | 18.5 | 6.0 |
| 18 | 22 | 18 | 36 | 27 | 33 | 31.5 | 13.5 | 20.5 | 6.5 |
| 20 | 24 | 20 | 38 | 29 | 35 | 31.5 | 13.5 | 20.5 | 6.5 |
| 22 | 26 | 22 | 40 | 31 | 37 | 31.5 | 13.5 | 20.5 | 6.5 |
| 24 | 28 | 24 | 42 | 33 | 39 | 34.2 | 13.3 | 20.3 | 6.7 |
| 25 | 30 | 25 | 44 | 34 | 40 | 34.5 | 13.0 | 20.0 | 7.0 |
| 28 | 33 | 28 | 47 | 37 | 43 | 37.5 | 12.5 | 19.5 | 7.5 |
| 30 | 35 | 30 | 49 | 39 | 45 | 38.0 | 12.0 | 19.0 | 8.0 |
| 32 | 38 | 32 | 54 | 42 | 48 | 38.0 | 12.0 | 19.0 | 8.0 |
| 33 | 38 | 33 | 54 | 42 | 48 | 38.0 | 12.0 | 19.0 | 8.0 |
| 35 | 40 | 35 | 56 | 44 | 50 | 38.0 | 12.0 | 19.0 | 8.0 |
| 38 | 43 | 38 | 59 | 49 | 56 | 39.5 | 13.0 | 20.0 | 10.0 |
| 40 | 45 | 40 | 61 | 51 | 58 | 39.5 | 13.0 | 20.0 | 10.0 |
| 43 | 48 | 43 | 64 | 54 | 61 | 39.5 | 13.0 | 20.0 | 10.0 |
| 45 | 50 | 45 | 66 | 56 | 63 | 39.5 | 13.0 | 20.0 | 10.0 |
| 48 | 53 | 48 | 69 | 59 | 66 | 39.5 | 13.0 | 20.0 | 10.0 |
| 50 | 55 | 50 | 71 | 62 | 70 | 44.0 | 13.5 | 20.5 | 11.5 |
| 53 | 58 | 53 | 78 | 65 | 73 | 44.0 | 13.5 | 20.5 | 11.5 |
| 55 | 60 | 55 | 80 | 67 | 75 | 44.0 | 13.5 | 20.5 | 11.5 |
| 58 | 63 | 58 | 83 | 70 | 78 | 49.0 | 13.5 | 20.5 | 11.5 |
| 60 | 65 | 60 | 85 | 72 | 80 | 49.0 | 13.5 | 20.5 | 11.5 |
| 63 | 68 | 63 | 88 | 75 | 83 | 49.0 | 13.5 | 20.5 | 11.5 |
| 65 | 70 | 65 | 90 | 77 | 85 | 49.0 | 13.5 | 20.5 | 11.5 |
| 70 | 75 | 70 | 95 | 83 | 92 | 55.5 | 14.5 | 21.5 | 13.5 |
| 75 | 80 | 75 | 104 | 88 | 97 | 55.5 | 14.5 | 21.5 | 13.5 |
| 80 | 85 | 80 | 109 | 95 | 105 | 55.0 | 15.0 | 22.0 | 13.0 |
| 85 | 90 | 85 | 114 | 100 | 110 | 60.0 | 15.0 | 22.0 | 13.0 |
| 90 | 95 | 90 | 119 | 105 | 115 | 60.0 | 15.0 | 22.0 | 13.0 |
| 95 | 100 | 95 | 124 | 110 | 120 | 60.0 | 15.0 | 22.0 | 13.0 |
| 100 | 105 | 100 | 129 | 115 | 125 | 60.0 | 15.0 | 22.0 | 13.0 |