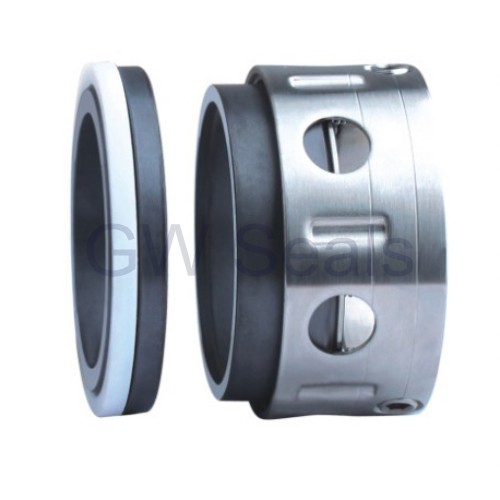 ROTARY SHAFT PTFE Wedgw mechanical seals


Application Scope:
The shaft seal system of rotating unit used in industries of petrol chemistry, electricity, metallurgy,
food, pharmacy etc..It is apt for low and medium viscosity media with or without small amount of
granules in low-and medium temperature, like light hydrocarbon, light oil, some organic material,
water, etc.


Construction Features:
•The multi-spring ensures end face compensation.
•The variety of its end face sizes supports wider application.
•Its auxiliary materials support its interchange with other seal rings for a wider application scope.

| | | | | | | |
| --- | --- | --- | --- | --- | --- | --- |
| /Size | d | D3 | D2 | D1 | L1 | L2 |
| (/Inch) | | | | | | |
| 0.500 | 12.70 | 23.80 | 13.40 | 25.40 | 23.80 | 7.90 |
| 0.625 | 15.80 | 26.97 | 16.60 | 31.75 | 23.80 | 10.30 |
| 0.750 | 19.00 | 30.15 | 19.70 | 34.93 | 23.80 | 10.30 |
| 0.875 | 22.20 | 33.32 | 22.90 | 38.10 | 23.80 | 10.30 |
| 1.000 | 25.40 | 36.50 | 26.10 | 41.28 | 25.40 | 11.10 |
| 1.125 | 28.50 | 39.67 | 29.30 | 44.45 | 25.40 | 11.10 |
| 1.250 | 31.70 | 42.85 | 32.40 | 47.63 | 25.40 | 11.10 |
| 1.375 | 34.90 | 49.20 | 35.60 | 50.80 | 34.93 | 11.10 |
| 1.500 | 38.10 | 49.20 | 38.80 | 53.98 | 28.58 | 11.10 |
| 1.625 | 41.20 | 57.15 | 42.40 | 60.33 | 29.36 | 12.70 |
| 1.750 | 44.40 | 58.72 | 45.50 | 63.50 | 34.93 | 12.70 |
| 1.875 | 47.60 | 63.50 | 48.70 | 66.68 | 34.93 | 12.70 |
| 2.000 | 50.80 | 66.68 | 51.90 | 69.85 | 34.93 | 12.70 |
| 2.125 | 53.90 | 71.42 | 55.00 | 76.20 | 42.85 | 14.30 |
| 2.250 | 57.10 | 72.21 | 58.20 | 79.38 | 34.93 | 14.30 |
| 2.375 | 60.30 | 76.20 | 61.40 | 82.55 | 42.85 | 14.30 |
| 2.500 | 63.50 | 79.38 | 64.60 | 85.73 | 34.93 | 14.30 |
| 2.625 | 66.60 | 82.55 | 67.70 | 85.73 | 42.85 | 15.90 |
| 2.750 | 69.80 | 85.73 | 70.90 | 88.90 | 42.85 | 15.90 |
| 2.875 | 73.00 | 88.90 | 74.10 | 95.25 | 42.85 | 15.90 |
| 3.000 | 76.20 | 92.08 | 77.30 | 98.43 | 42.85 | 15.90 |
| 3.125 | 79.30 | 95.25 | 80.50 | 101.60 | 42.85 | 19.80 |
| 3.250 | 82.50 | 98.43 | 83.60 | 104.78 | 42.85 | 19.80 |
| 3.375 | 85.70 | 101.60 | 86.80 | 107.95 | 42.85 | 19.80 |
| 3.500 | 88.90 | 104.78 | 90.00 | 111.13 | 42.85 | 19.80 |
| 3.625 | 92.00 | 107.95 | 93.10 | 114.30 | 42.85 | 19.80 |
| 3.750 | 95.20 | 111.13 | 96.30 | 117.48 | 42.85 | 19.80 |
| 3.875 | 98.40 | 114.30 | 99.50 | 120.65 | 42.85 | 19.80 |
| 4.000 | 101.60 | 117.48 | 102.70 | 123.83 | 42.85 | 19.80 |